Artist Reception Tonight – Urban Living In Las Vegas Provides Many Opportunities To Never Be Bored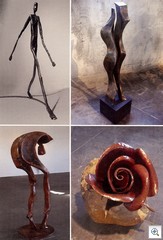 Last night at LOPRO (the Thursday Night Downtown Business Mixer at the Downtown Coctail Room) we ran into Henrik Yde. He asked me to invite all of you to come to his opening tonight.
Henrik's gallery is hosting an artists reception and opening tonight (Friday Feb, 22) at his gallery. Claudio Banzer is a painter and sculpture, and both media are being shown.
The gallery is at 1551 S. Commerce. in the Las Vegas Arts District. Hours are 6–9 pm.