The Downtown Las Vegas Arts District is very near and dear to my heart. It's the bridge between the historic neighborhoods, and the redevelopment of Downtown. It's the place where the 2 eras are converging. There'll be plenty of action in the future what with the new City Hall, The Smith Center For the Performing Arts and lots of new building. The stage is set for a second wave of re-gentrification for the historic neighborhoods as the economy turns around.
In the meanwhile, there's the Arts District.
Most of the attention is paid to First Friday. I want to pay some attention this month to the entrepreneurs, shopkeepers, artist and merchants that haven't given up the dream, or wavered in the least on their vision of a vibrant energetic, walking district. They're riding out the storm of this recession as best they can. A successful holiday season for them will help insure that many of them are still there when things get better.
They deserve our support, our best wishes, and MOST IMPORTANTLY, they deserve some of our dollars that we'll be spending this month on holiday gifts. This is a multi part series telling you about various galleries, businesses, and shop of the Arts District. Call it free advertising. I'm calling it a call to action.
Let's start with the holiday windows. In the great tradition of wonderful holiday displays in storefront of years gone by, many of them have created wonderful windows. Go see them. Stop in and buy something for someone on your list.
The Attic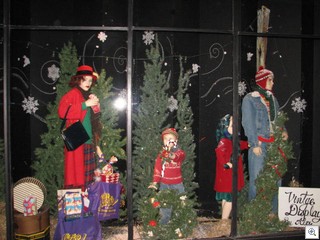 The Attic – 1018 S. Main Street, just north of Charleston.
The attic is one of the first shops to open in the area. 1986 to be exact.
It's the funkiest funnest store in all of Las Vegas. Visa thought so, and did a commercial featuring The Attic in 1998 for the final episode of Seinfeld.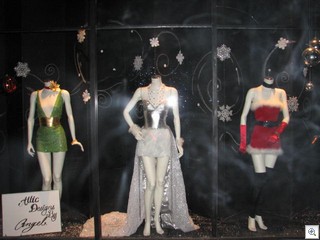 This is the attic's other window.
There's copies of reviews from Vurb Magazine and 94 on their Attic Vintage website that are worth the read. Nothing you read about them, however, will be as fun as going there and checking it out in person.
Valentino's ZootSuit Connection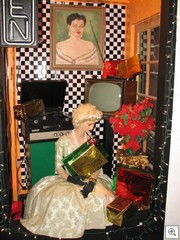 Valentino's ZootSuit Connection – The Arts Factory 107 E. Charleston Suite 135
Monday thru Saturday 11am to 5 pm
This display window and the entrance is in the center lobby of the Arts Factory.
You'll be blown away.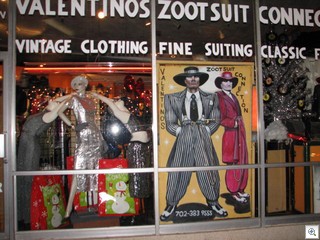 Gaia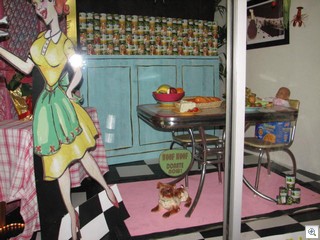 Gaia – Flowers, Art, Gifts 4 E. Main Street.
Mon.-Fri. 8 a.m.-6 p.m. Sat. 10 a.m.-6 p.m. 702–997–0222
The window is delightful. The store is like no other flower shop you've ever been in.
It's Mother Earth's kind of shop.
Retro Vegas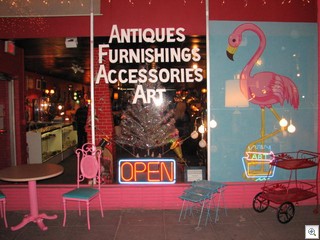 Retro Vegas 1211 S. Main Street
11am to 6pm Monday thru Saturday
It's my favorite home furnishings accessory stores. Primarily focused on Mid Century Modern and 50's and 60's funky.
Mark and Bill are great friends of mine, and deserve the repeated mentions.
Everything's affordably priced the inventory changes all the time.
Atomic Todd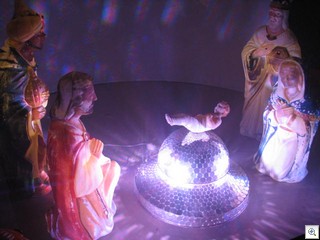 Last week I told you that Atom Todd – who's a lighting consultant by day, and art curator by night, was doing something special.
This window is on Main Street, just a few doors from Retro Vegas. The big reveal was at First Friday. I missed the reveal, but you shouldn't miss seeing it.
There's plenty of other galleries, stores and shops in the Arts District. Please consider giving them a visit as part of your holiday shopping.