More than just the best Philly Cheese Steak in Vegas! But, try to tell me that.. I'm hooked on the Philly! This cool independent pizza shop near the corner of Fremont & Las Vegas Blvd, has exactly the vibe you'd get if you stumbled into any given pizza shop in NY or Philly. But we don't just dine out because a place has great 'urban grub-vibe appeal'… everything on the menu I've had is amazing! The pizza sizes are true to East Coast measurements (meaning a 'small' pizza dwarfs those offered by national chains), and I haven't stepped in the joint once to leave disappointed.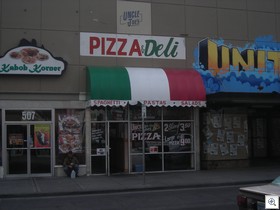 Beyond the amazing food, small shops near Fremont such as Uncle Joe's, truly embody the diversity of foot traffic you'd hope to find in a downtown coming of age. Maybe it takes me back to the state of mind I used to take for granted while living in Ann Arbor, MI on U of M's eclectically diverse campus. What ever it is, the positive energy of everyone here and the quality food at a good price have won me over big time. Besides that, it's just close & convenient.
More on this restaurant, including their menu (available for carry out, dine in, and delivery) will soon be located in the 'Downtown Restaurants' link in our links section. Keep up the kitchen love Joe!