The problem with writing a post about my favorite blogs is that I got caught up on reading them. So without comment, here's the list of what I was reading last night. My intention was to write a little snippet on each, but it didn't end up happening.
Be forwarned, there's about 80 hours of great reading, great pictures and some really campy fun, retro, vintage, nostalgic fun if you start clicking.
Miami Design Preservation League
Palms Springs Preservation Foundation
Los Angeles Conservancy Modern Committee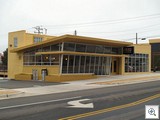 Oklahoma City Historic buildings
Didi's Dim Beauty Of Seattle yes, that Didi who comments on VVV all the time!
mid mod real estate agents in Phoenix
The Brownstoner from Brooklyn NY
Miamism A Miami Agent who "gets it"
Enjoy!