Last Fall, if you'll remember, The Atomic Age Alliance And The City Of Las Vegas Cultural Affairs Department hosted a "MOONLIGHT BUS TOUR OF MID CENTURY MODERN LAS VEGAS".
On the tour, we were shown this unique pattern which adorns the Circus Circus Hotel. The easiest way to see it in person is from Industrial Road, South Of Sahara Ave.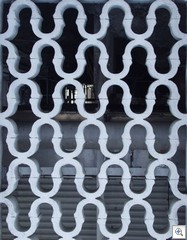 As it is with many of our patterns, there two ways to look at it. Focus on the center of any given block, and you'll primarily see this:


However, Just look between the blocks and a different design will dominate what you see.
All of Circus Circus is what we call "GOOGIE"
There's been plenty written about Googie Archictecture on this blog. Here's terrific Flickr page devoted just to Googie And SpaceAgeCity has the best description and history of the movement that I've ever found. Their gallery is chock full of pictures also.
There's tons of googie all over Vintage Las Vegas, though much of has been lost entirely or adulterated away from it's primary design.
When we're done with the decorative concrete block, I'll do a daily series of the googie of Las Vegas that's still around. (Someone remind me in about 40 days)