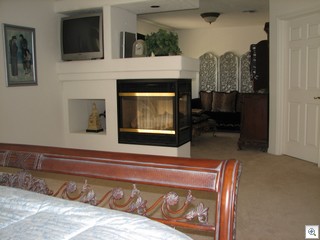 All the pictures are now posted in the Featured Properties Section in the left Column. What I didn't tell you on Friday was that it's priced at only $280,000. I have a feeling from some of the comments, that you expected a much bigger price tag than that. Sorry if I misled you.
Forest Hills is one of the hidden treasures of Vintage Vegas. That's were Susan from Spokane will be moving into next week once we get her deal closed. She bought a stunning 1 story townhome, partly because of the community landscape with it's giant trees, and hanging shrubbery.

There's 2300 sf of gorgeous living space. All the furnishings can be bought separately. The Tiki themed patio is one of the largest in the complex, and it's right beside the community pool and spa.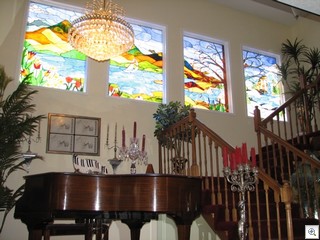 I don't want you to get the impression that it's ALL about the Stained Glass Mural. It's also about the piano shaped platform for the baby grand piano, and the sunken tub under the mirrored ceiling and chandelier in the master bathroom. It's about the formal dining room that could seat 12, and the stone fireplace which is bordered by more stained glass windows.
It's about affordable elegance that I can't duplicate for you anywhere else in Vintage Vegas.
I'll let the rest of the pictures do the rest of the talking. Take a look.