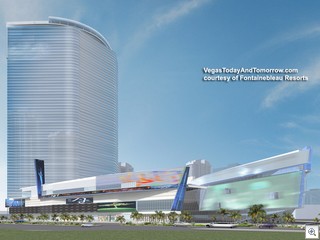 Thanks to Brian Paco Alvarez for reminding me that I need to check in at Vegas Today and Tommorow more often.
The Fountainbleau hotel which is under construction just north of the Riviera seems to be a magnificent homage to the mid centruy modernism that we write about so often. Check out all the various renderings on their Fountainbleau post.
There's plenty more to see.
My first trip to Miami when I was 10 years old was for my cousins wedding. The reception was at the Fountainbleu on Collins Avenue in Miami Beach.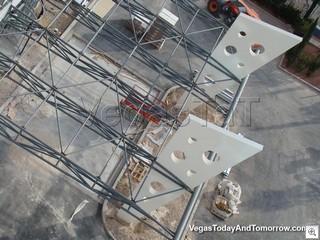 Modernism was in it's heyday, and I fell in love with so much of the architecture of the 50's and 60's on that trip, (as well as the Art Deco of the 20's and 30's in what later came to be known as South Beach.
quoting from VTT:
Fontainebleau sales center is getting a MiMo treatment. Random round holes in the triangular Porte Cochére supports are reminiscent of 50's-era Miami style. This is a big clue as to what we can expect in the resort. Photo 3/1/08 by Aaron Auxier
Personally, I'm not a big fan of "MiMO" as a moniker for Mid Century Modern. I prefer "Mid Mod". But I am a big fan of VegasTodayAndTomorrow.
UPDATE 5/30/08 Brian Paco Alvarez tells me that the meaning of "MiMO" as used in the post was a short cut for "miami modern", instead of "mid mod". It's obviously gets more usage in Miami than in Vegas. The famous original Fountainbleau being in Miami would account for it.
I'm ALWAYS learning, and always happy to pass on what I learn. Thanks Paco.