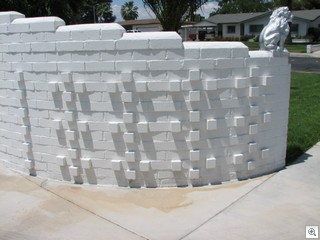 In the lecture by Bill Krisel, that we published last week, he mentions shadow block and integrating accent design into the building itself. There's many marvelous examples all over vintage vegas.
"Buildings cast shadows" and they can't be ignored. These first two examples are from downtown homes in the historic John S. Park and Beverly Green Neighborhoods.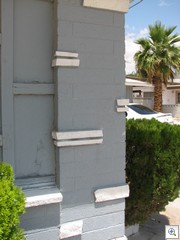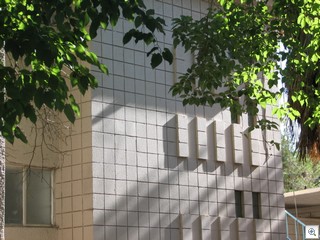 Another good example comes from the "Fleur De Lis" apartments off Maryland Parkway accross from the Boulevard Mall. Integrated design changes ordinary into gorgeous. I just wish the whole complex was better maintainted, but it's worth finding them if you're wanting to take a few minutes next time to see an amazing complex of mid century modernism.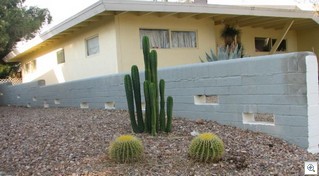 We've been busy working on the block walls surrounding my own home. We finished the front painting this weekend. Our fences had the opposite of pop-outs. The design was created by leaving selected blocks out altogether.
This view from the neighbors yard also shows the broad overhangs, and exposed beams on my home.
I hope you don't think I've been blowing smoke about being a mid mod enthusiast without actually living in – and loving one of them.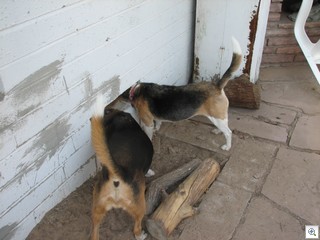 But the holes in the fence does present a problem in the backyard, where we spent the weekend tuck pointing and prepping for the new paint job.
The beagles are obsessed with watching the neighbors. What happens in their yard is capable of setting off a chain reaction of dog barking for several blocks around us.
I've promised you in the past to tell you about where we can get our "decorative sunscreen" blocks locally, and I am building up to that for tomorrow. The series that we've been doing is what got me motivated to work on my own fences, and to research where to find 4x4x16 block. In doing so, I discovered a local source for some of our patterns.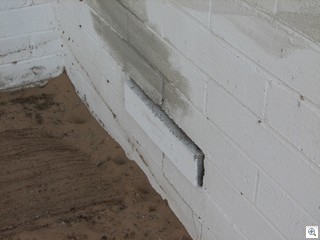 My solution to the beagle problem is to turn some of the holes (especially the lower ones), if not all of them into popout shadow block instead.
The final decision is yet to be made whether to leave the soon to be installed block sticking out one inch or maybe 2 inches, or to create an actual ledge that could hold a planter or a piece of art.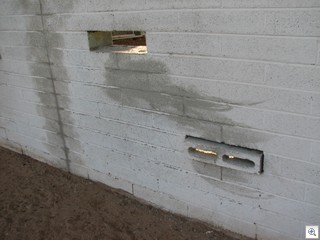 I've also rounded up a few blocks of the right size that have holes in them that could create another type of accent. I've only got 5 of them, and haven't decided whether to integrate them or not.
Of course, your input is welcome in the comments.
I'll show you the finished outcome (if I ever take off another weekend) when we're done.