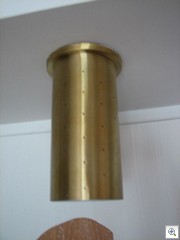 There's something to be said for looking at bank owned foreclosures with true mid century modern "enthusiasts". The advantage is several extra eyeballs to look for the little details that it's so easy to miss.
Sometimes the details are buried beneath the trash that I show you regularly in the Worst MLS Photo of The Day. Sometimes they're just there to be spotted, if you stick around long enough to really take a look. Each buyer has a different agenda, but when I'm with the "enthusiasts", we seem to spot them all.
I've started to document the little details that we find. There's enough from just the last 3 days of foreclosure shopping to do a regular series. There's enough for a life time if I go back to all the great fixtures that I didn't take pictures of.
I know that some of you spend your life (or at least your spare time) on Ebay. If you ever spot any of the things I'm showing you, or if you know a make or a brand or a name or anything else, I hope you'll share it with us.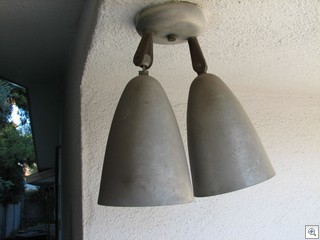 Today we're looking at some of the interesting light fixtures that we've spotted.
The gold one is from a foreclosure home in Paradise Palms. There's actually a matched pair, and the rest of the house and pool are certainly redeemable, especially at 159,500 which is the lowest priced home for sale in Paradise Palms.
The double headed spot lights are from the John S. Park Historic Neighborhood. They're brushed aluminum. Polish up those puppies and they'll be like brand new!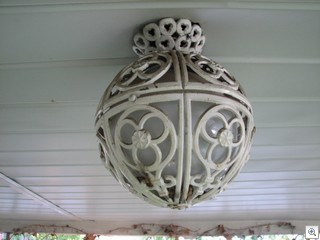 The wrought iron globe lamp is from just down the street from my house. Most of the fixtures from this home are old world european style. I'll show you the front door tomorrow.
All of the pictures on Very Vintage Vegas are ALWAYS clickable thumbnails in case you'd like to see a bigger version.
I'm hoping you'll enjoy this new series.