When I travel, I don't spend my time at the pool. I set out to find the oldest buildings, the hippest revitalized neighborhoods, the historic markers, the museums and the galleries. The culture is the SOUL of any city.
I've been hinting and recommending to the powers that be that there's a whole different group of tourists who could be promoted to. That group, like me does more than go to the beach or the pool, and certainly doesn't eat at the chain restaurants that they could find anywhere. Why we don't prominently promote our non-resort, non-gaming culture is beyond me.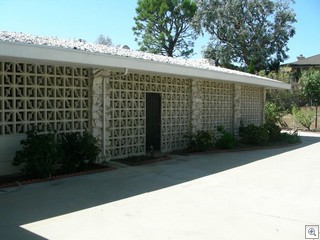 I got a delightful email the other day from a reader in Beverly Hills that makes the point. She even included a picture of the sunscreen on her Mid Century Modern home.
She wrote:
I found you through …….and LOVE your website. In fact, every time I see a cool cast block design, I think of all the cool ones you have posted online. I have attached a photo of ours for your viewing pleasure.
Anyway the reason I am writing is you seem to be the kind of all things mid century modern Las Vegas and I need your help. My husband and I are going on our first "non kid" holiday and miss the old days of road trips, searching for all things 50's60's antiques, places, etc. So we are taking a two night trip to your city and wanted to know your tips. I know this is a totally random email, but I thought if anyone you would be the best to ask.
Antiques Malls, shops, events etc in the middle of August. Neighborhoods? Icon Mid Mods that we just have to see? Is there any googie architecture? So if you don't mind please drop me a line if you have a moment and I look forward to reading your website. Those MLS photos crack me up!!!!
So, I ask you dear readers….. Where should she go? What shouldn't she miss? What should be on our list for her?
Just click on the "comments" link at the bottom of the post.