Today's guest editorial is by MaryMargaret Stratton of the Atomic Age Alliance. There have been many posts on VVV about Maude Frazier Hall, and the efforts that have been made to preserve it instead of demolish it. If you'd like to get up to speed on the subject you can find them all here.
UNLV Goes Brown – Not Green by MaryMargaret Stratton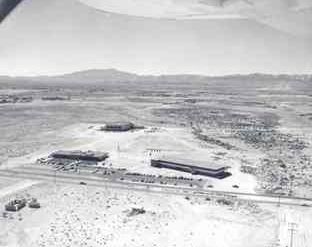 As of this week, Maude Frazier Hall on the University of Nevada, Las Vegas is surrounded by chain link fence. UNLV in the face of highly publicized budgetary cutbacks wants to waste more money by tearing down its first historic building and plant a lawn in the desert.
College officials keep reporting that the building will cost too much to renovate, but as of this date no financial feasibility study has ever been made public.
Scarce Las Vegas History
Frazier Hall (1957) qualifies on numerous counts for National Register Status. The pickings for such an honor in Las Vegas are incredibly slim. Maude Frasier Hall was built by an award winning architecture firm, Zick and Sharp, who have few buildings left standing. It was dedicated to a pioneering woman, Maude Frazier, the first female Lieutenant Governor of Nevada and the person responsible for bringing educational facilities to Southern Nevada.&nbs
In some strange way, it seems oddly understandable that Las Vegas reinvents the Strip with demolitions. But for a city with no overwhelming evidence of its past, to tamper with its educational heritage is plain perverted. It certainly sets UNLV apart from almost every other respected major educational institution in the country.
The nation is full of universities proud to flaunt their first buildings, knowing it engenders a prestige that nothing new can ever bestow.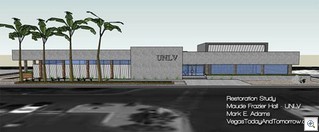 In November 2007 the Clark County Planning Commission voted unanimously to preserve Maude Frazier Hall. A majority of university regents showed support for looking at the possibility of preserving Maude Frazier Hall. The Atomic Age Alliance online petition showed overwhelming local and nationwide support for this building.
Yet before the year is over, UNLV will demolish its first building to put in grass and an arch? Something doesn't add up.
Ivy League History by Comparison

At Harvard, oldest institution of higher learning in the , the university president has his offices in Massachusetts Hall (1720). Founding fathers who walked through Massachusetts Hall include John Adams, John Hancock and Samuel Adams. One may ask, what notable Las Vegas citizens walked through the halls of Maude Frazier over the past fifty years?
At Yale the oldest building on campus, Connecticut Hall (1750), was declared a National Historic Landmark in 1965. Princeton honors its oldest building on campus, Nassau Hall (1756) by making it the central administrative building. Cornell University's simple but elegant oldest buildings located on the Arts Quad are affectionately known as Stone Row. Columbia puts its first building, Earl Hall (1902) to use as the spiritual headquarters of campus!
And lastly, the City of Brotherly Love knows how to love its history, not lose it. The University of Pennsylvania relocated College Hall (1873) and listed it on the National Register in 1978. The University of Pennsylvania president also chooses this building for his offices. A far cry from UNLV President David B. Ashley, who, although it was within his rights to do so, was not even willing to review the master campus plan to demolish the first UNLV building drawn up years before he took the job. Something doesn't add up.
Campus and Identity
Historic university buildings are revered not just on Ivy League campuses. Stanford University, preserved what it could of the original 1891 quad as part of its core identity.
When University of Southern California underwent a landscape transformation in 2001, the resulting Hoover Corridor includes a pedestrian mall, green space and a landscaped garden court adjacent to the very first building on campus, the 1880 Widney Alumni House, a California landmark, which was not demolished, but moved to accommodate the new campus plan.
And not all universities have the advantage of being 200 years old. The 1949 International Modern Style Merrick Building on University of Florida, Miami's campus is preserved and the Anthropology Department resides there now!
Whereas Ivy League schools honor their history, UNLV President David Ashley and Regent Chair Michael Wixom are willing to trash it without a second thought. They do not care to showcase UNLV a context that will last beyond today's instant gratification. They prefer to teach their students that culture is disposable and history is unimportant. They also don't mind future UNLV donors knowing that whatever legacy they bequest to UNLV may be gone in 40 or 50 years.
Sustainability

In light of the global warming world we live in, the "green" thing to do would be to reassess the plan and consider how to adaptively reuse existing buildings.
The Atomic Age Alliance put together an adaptive reuse plan for the University that was never responded to. http://www.vegastodayandtomorrow.com/maudefrazier.htm

Adaptive reuse is not the expensive proposition that it is made out to be by some college officials. And besides, where is the restoration financial feasibility study? On November 29 and 30, 2007, The Board of Regents addressed this issue (items 18 and 19 on their agenda) and VOTED that Dr. Ashley should form a task force to look into the future historical preservation of buildings on campus. As far as we know, this has never happened. Something does not add up.
Private Benefit from Civic Demolition
ALL that exists to promote demolition is an out-of-date Midtown plan from 2004 submitted by Michael Saltman and the Vista Group who own the property directly across the street on Maryland Parkway. They believe their private property will benefit from the demolition of Maude Frazier Hall.
What adds up? Saltman is on the UNLV Foundation Board of Trustees and has donated millions to the university.
UNLV proves that it does not care about spending money they supposedly don't have. UNLV proves it does not care about its surrounding community's sustainability. And UNLV proves it does not plan to be in the big leagues with its cavalier attitude towards its own history.
Mary-Margaret Stratton
Executive Director, Atomic Age Alliance