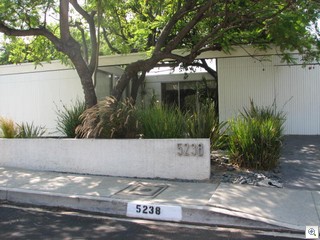 I sure hope that when people come to Las Vegas that they become "cultural tourists" as well entertainment/gambling/sex/food/shopping tourists. That's what I do when I travel.
I wish I had allowed more time to explore some of the other Mid Century Modern neighborhoods of Los Angeles that I've heard so much about. One of the neighborhoods that I did find is called Los Feliz Estates. From the couple of residents that I stopped and talked to, I found out that it was developed in the late 50's and into the mid 60's. These were all custom one of a kind homes on 1/4 to 1/3 acre lots. The neighborhood is built up the side of the mountain, so they're all terraced with views from either the front yard or the back yard, depending on which side of the street they're on.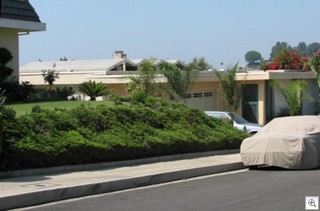 I didn't succeed in convincing any of the 3 residents that I talked to to show me the inside of their homes, but even the outside designs are well worth showing you. Many of the homes are similar in concept or design to the custom mid mods that we find in Marycrest, John S. Park, and the various Rancho Communities along Rancho and Alta.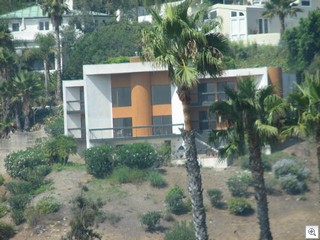 One of the things that was apparent is a similar problem that we have in Las Vegas, and it seems to be happening far too often everywhere. Some of the homes, are being "butchered". They're being made over into Tuscan/Mediterranean McMansions. Elements that are totally inappropriate to mid century modernism are being added. I'm talking about rounded windows, turrets, closed soffets, tile roofs, and a whole host of things that just don't fit the home or the neighborhood. I didn't take pictures of the remuddles that I saw, but I could do a mile long post about it just from the mid mods that have been "remuddled" here in Las Vegas.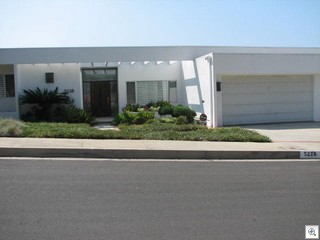 Because this was a hillside community, there seemed to be a lot more 2 story homes than we typically find here in Las Vegas. Views are everything!