As you know, I'm obsessed with the decorative block sunscreens and walls,. The series that we did about them seems to have long tail search engine value.

I gave you a teaser the other day about a very special pattern, and these photos came along with it.
They were sent in by a VW affectionado in Connecticut, and I'll let him tell the story.
The first email I received from Dave had this note attached along with these photos:
Jack,
Have you ever seen Decorative Concrete Blocks shaped like the Volkswagen logo? ( see the attached photos) I've only found 2 Volkswagen dealerships from the 1950-60's that used them. One was Davella VW was in Meriden, CT the second was North Dade Imported Motors was in North Miami, FL. Were the any 50-60's VW dealerships in or near Vegas that may have had these?
So the mystery was afoot! I naturally went to MaryJoy who remembers everything about Las Vegas in the 50's and 60's. She remembers the only VW dealership being Bob Glinski's Motors at Boulder Highway and Sahara, They didn't have them.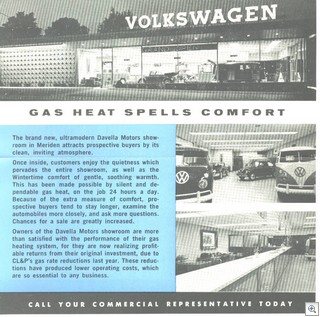 David emailed me back the story of how he acquired 2 of them:
Jack,
My son and I are avid Volkswagen enthusiasts so when we saw this
VW concrete block at a VW car show/swapmeet a few (6) years ago and just thought
it was neat that Volkswagen used something like when they constructed the dealers building.

The guy was selling the block(s) for $75 each. At the time I thought that was kind of high priced!
He told me that it came from an old VW dealership that was torn down…..Davella Motors in
Meriden, CT. I tried locating the owner of the old Davella Motors but he had passed away.
I tried the Meriden-Local Historian, he didn't have any photos, but only knew of a postcard that
had Davella's Dealership on it. (I'm still looking for one of those.) Next the Meriden Building Dept., They told me they didn't have anything that "old", and finally the Meriden newspaper the Record-Journal…a partial success….most of their old photos were ruined/destroyed in a flood years ago but they had some photocopies of articles in the newspaper about Davella's dealership and one photo of Davella's when it was rebuilt…..they sent me copies. The new Davella Motors didn't use the Decorative VW Logo Concrete Blocks but had half a VW Bug on the outside wall of the building. See photo.

A few months later we were buying some parts for our VW beetle
at a place named Bug City (they sell parts for all kinds of VW's) the owner Dave Valici said he
knew of a guy that has some of the "VW Blocks"…Johnny at Classic Cars in Meriden!! I went
to see him and bought two for $50 each!! He bought/acquired all the blocks when the old Davella
Motors was torn down. He also knew of the "postcard" but didn't have one.

I guess that I just became obsess with finding out more about these VW Decorative Concrete Blocks!!
Every once and a while when I'm on the Internet I search around for more info about them.
Oh….just recently I called Johnny (the guy that sold me the VW Blocks) he said he sold the rest
of the VW Blocks (about a 100 of them) to a man out of state that is going to use them for
a wall next to his garage!!
– – David
Then he sent me a note saying that:
Just an update to the end of my story: the guy that bought the 100 VW Blocks paid $4000 for them!!
He's a VW Dealer in Chicago and may use them at his dealership!!??
Maybe we can get Didi from DIM BEAUTY OF CHICAGO to help us track down the blocks that ended up in Chicago.
I know there's postcard collectors out there. Anyone ever seen a VW dealership postcard from Davella Motors? Any other dealerships?
There's mid century modern affectionados all over the country who read this. Any of you have a recollection of these at any other VW dealerships?
Like Zane and other readers, there's VW affectionados. Any of you have dealership photos, ads, etc that might show them on other dealearships around the county?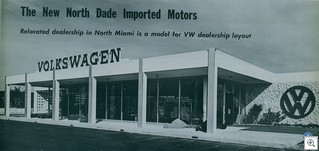 As a bonus, David sent me a the only other thing that he's found which is a VW dealership in Florida with a sunscreen on the far left edge made of the decorative concrete blocks. It's a great mid mod design as well. Maybe one of you have a photo editor that can bring the blocks into clear focus.
Furthermore, if you didn't click on the ad that shows the davella dealership, it's hysterical. It's really an ad for gas heat from Connecticut Power and Light which features the dealership, and provides at the moment the only known picture of the blocks as they were originally used.