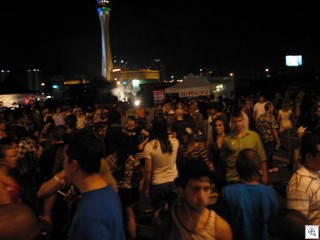 The First Friday crowd was enormous this month, as the heat had finally broken. Evening temperatures were only in the low 90's, which we consider perfect Las Vegas weather.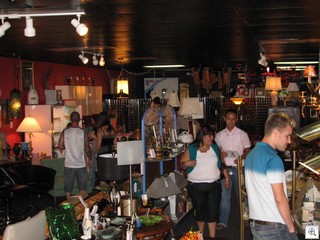 A steady stream of traffic, and rave reviews from the visitors at "Retro Vegas" on Main Street. The inventory of authentic retro furnishings and accessories for your vintage pad changes almost every day. It's one of those places that people keep coming back to on a regular basis.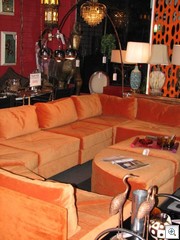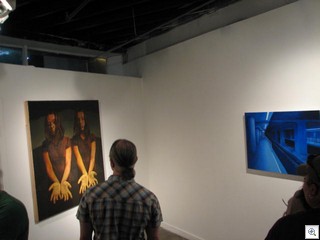 "Painting Physical Presence" is showing all month at the Contemporary Arts Collective.
Ayako Ono, a Japanese exchange student at UNLV paints only in blues. Her series on the trains and train stations deals with the loneliness in public places. Ms. Ono uses a multitude of blue hues, and only blue hues , to create the physical presence of loneliness and a feeling of isolation that leads to reconsidering one's identity.
Eric Gecas, on the other hand uses no blue at all. His paintings are built out of a sculptural concern for physical presence. Mr. Gecas uses his wife and children as models. All of the figures in his paintings are life size or a little larger.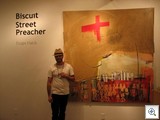 Robbie, who's better known as the Biscuit Street Preacher is showing at Marty Walsh's Trifecta Gallery in the Arts Factory.
Marty has impressed and enthralled me for years with her knack for finding great artists to showcase every single month. This month is no exception.
Check out the whole series at the Trifecta website, or even better, pay the gallery a visit!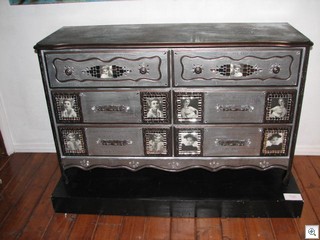 One of our favorite downtown resident artists, Leslie Rowland has a few new pieces of her decorated furniture on display this month. Her Gallery is also in the Arts Factory.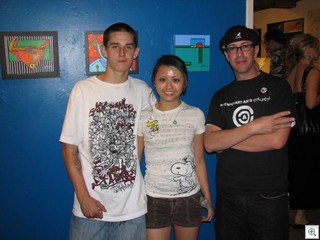 I was hanging with Brian Paco Alvarez, when we ran into a few of the grafitti artists that helped to create the "Beneath the Neon – The exhibition" that ran this summer at CAC.
They reminded us that we had promised to help them find "safe" walls to do their art. Paco and I are going to help get a space for them to do a live grafitti demonstration for next month's First Friday. We're going to have a meeting tonight to get it into motion.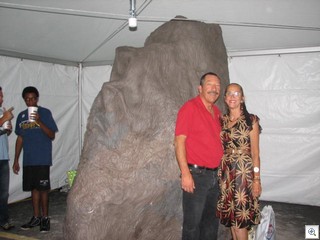 And the most interesting piece of art was a massive lump of clay that anyone could lend a hand at transforming. I spoke to the artists, and subsequently lost the brochure he gave me, so I don't know his name.
That's me and MaryJoy. Our little contribution was just our initials, but it was certainly something different.
First Friday should be on your list of must do things in Las Vegas. If you've never been to it….go put it on your calandar now.