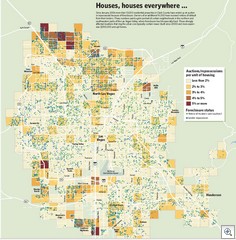 Well, it's certainly true that there's a shortage of very nice, well kept homes in Vintage Vegas.
It's not true out in the suburbs where there are whole neighborhoods of practically new homes that are being given away by the banks. The Map shows the density of the foreclosures in Las Vegas. You'll notice, if you click on the map, that the density in Vintage Vegas is still extremely low. I've been screaming for many many months that the foreclosure crisis is a suburban thing. The headlines, however, don't make that distinction.
"Location, location, location" is the most famous real estate cliche in the world. We've all heard it before. The thing about cliches is that they're almost always absolutely true. There's 3 locations in the cliche. There's the big picture location of Las Vegas in general. There's the medium location of "which part of town" and there's the very specialized location that is specific to a given neighborhood, location, era or some other micro criteria. Combine location with charm, character, and uniqueness, and you've pretty much summed up why I love Vintage Vegas.
Since I spend a good part of each day actually looking at the properties that are for sale in Vintage Las Vegas, I can say with as much authority as I can muster, that the foreclosures in the historic neighborhoods are the most neglected, most broken and most beat up of the homes for sale in the whole valley. They're also the oldest. "OLD" homes, to most of my readers, are the most desirable.
But not everyone wants a total or partial gut job fixer upper. They do want a home with charm and character and great location. In every neighborhood that I cover, there's a shortage of nice homes, that is, ones that aren't in foreclosure or already bank owned, and that have been loved and taken care of.
Why would there be a shortage? Because the sellers have been scared away. They're waiting for the market to get better. They won't let go of the fantasy price that they could have gotten 2 years ago. Some of them owe too much because they refinanced or borrowed against the home, already taken out their equity, and can't or won't give it back.
Those who aren't upside down don't realize that they can still get much more for their well loved home than the bank is going to get for the crap that's on the market right now. It won't be as much as they'd have gotten before, and it'll be a long while before they get that price again. But they can get their home sold if they'll go back on the market at a reasonable price.
That, of course, begs the question of what's reasonable. It's really a simple formula. Can a buyer buy a beat up house, fix it up and bring it to the standard of the well loved home? How much will they spend to acquire the crappy house, fix it up, and feel like they're still not upside down and that they got a bargain? The well loved home is worth about 10% more than that. That's how much a comparable nice home is worth in today's market. An extraordinary home will still do even better. But it's not going to get 2006 prices no matter how much the seller prays.
The buyers are going to compare the following 2 scenarios. The scenario one buyer is to buy the bargain/repo/fixer, spend a lot of time money and energy, and have a great home when they're done. Scenario two, is to buy a well loved, fun, exciting home right up front and maybe do a little painting, or change the flooring. Naturally, scenario two will cost the buyer more up front, but the whole purchase can be financed into the new mortgage. Buyer one will need to have lots of cash or lots of credit card reserves to get to the same place.
The fixer upper buyer has a lot more choice right now than the buyer for the well loved home. If you've considered selling, and waited, or gave up from a previous attempt, at least now that we're at the bottom of the market, I can tell you that the house will be worth the same today as it will during the next year or so. If moving on is in your plans, now is as good as next year.
Recent proof is the "Dean Martin's cousin's house" or my listing on Papago, or the Liberace Townhouse, or my listing on 15th street. All sold in less than 30 days. All getting top dollar in today's market. All bought by buyers who don't want a fixer upper. All priced reasonably, but not "given away". Giving them away is the bank's job, and the buyers for the give-aways aren't the same buyers that are looking for nice well loved homes.
If you've been thinking or re-thinking being a seller….give me a call.