HISTORIC PRESERVATION
ROUNDTABLE
GOAL SETTING SESSION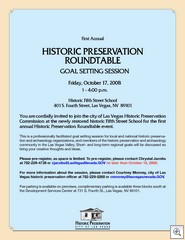 Friday, October 17, 2008
1 – 4:00 p.m.
Historic Fifth Street School
401 S. Fourth Street, Las Vegas, NV 89101
You are cordially invited to join the City of Las Vegas Historic Preservation
Commission at the newly restored historic Fifth Street School for the first
annual Historic Preservation Roundtable event.
This is a professionally facilitated goal setting session for local and national historic preservation
and archaeology organizations, and members of the historic preservation and archaeology
community in the Las Vegas Valley. Short- and long-term regional goals will be discussed so
bring your creative thoughts and ideas.
Please pre-register, as space is limited. To pre-register, please contact Chrystal Jacobs at 702-229-4739 or [email protected] no later than
October 10, 2008.
For more information about the session, please contact Courtney Mooney, city of Las
Vegas historic preservation officer at 702-229-5260 or [email protected].
Fee parking is available on premises, complimentary parking is available three blocks south at
the Development Services Center at 731 S. Fourth St., Las Vegas, NV 89101