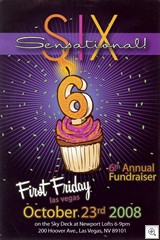 The growing arts community is a vital piece of the puzzle in our efforts to save the historic neighborhoods and classic homes of Las Vegas. We're very fortunate that geographically, our downtown Arts District, as well as the neighborhoods we're promoting are all in the center urban core of Las Vegas. The next wave of residents are all about urban living. Art, music, convenience, diversity, and culture are all important to us. The architecture and design of the homes is as important as what they do outside of the house.
That's why it's important that we support First Friday, and the whole Arts District scene in general. First Friday however is a non-profit venture. It's also a costly event every month. Once a year there's a big cocktail party gala fundraiser. Last years was a blast, and this one promises to be even better.
Tickets are available online and at the various stores and galleries in the arts district.
Even if you can't attend, you can still make a donation on line here. Please consider it.