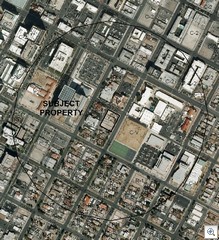 At the Historic Preservation Roundtable last Friday, Planning Commissioner Steve Evans inadvertently made the case for why we had the roundtable at all. There's plenty more to write about the roundtable, but I wanted to put out the story of a home that sits across from The Las Vegas Academy.
It was built by Charles "Pop" Squires. It's part of a 4 parcel piece of land on which developers want to build a 5 story "modern" mixed use building. That sounds like a great cause for the preservationist to get excited about.
The thing is….WE ALL MISSED IT! It was before the planning commission, on September 25th. The agenda merely called for variances for setbacks etc and referred to it as the "Southwest Corner of 7th and Chef Andre Rochat Dr." No one knew it was happening. No one showed up to protest. Fortunately, Steve Evans spoke eloquently, and made the case as well as possible with out any other voices to back him up. The motions all ended up tied, and it got put on the City Council Calendar for the first meeting in November.
You can watch the proceedings at the city website with this link. Just click on Item 35 in the left hand column and the video will start at that point.
The original Squires family home was on Fremont at 4th Street. He later moved to the suburbs and built the home we're talking about on Seventh Street.
Steve calls the Pop Squires Home one of the most important remaining historic homes in all of Las Vegas. Pop Squires papers and effects are in the UNLV SPECIAL COLLECTIONS. And there's a very good biography on the 1st100 website. And another on the ONE – Online Nevada Encyclopedia
When we finished the goal setting afternoon session of the Roundtable, it was abundantly clear that watching carefully what the developers are doing has to be a highest priority. Getting the word out, and getting people involved is right up there also.
Watch the 15 minute planning commission hearing, and you'll get a sense of why this wasn't apparent to anyone. The developers are willing to donate the home to anyone who will move it and save it, but won't spend a penny themselves for anything but a bulldozer.