I'm going to show you the artists that I met or was happy to see again at First Friday. Usually I take pictures of the crowd or a piece of art that struck me. Friday wasn't so very busy and I had a chance to actually chat with many of them.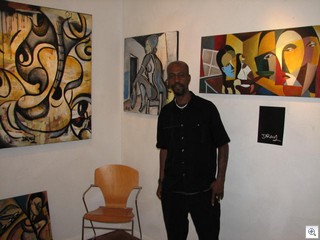 Dray's been around the Arts District from it's inception. He told me he's moving to Atlanta. I'm wishing wish him well and will miss seeing him around.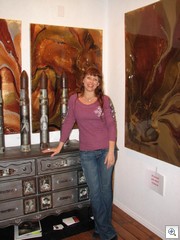 Leslie Rowland's moving to Neonopolis. She'll be showing as well as creating in her new gallery/workshop soon. Mostly so she can have her living room back.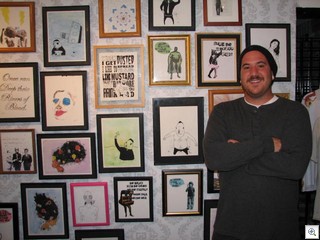 Danny Bennett took over 2 walls at the Biggs new studio on Casino Center.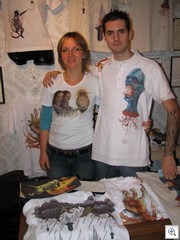 Dasha and Mike Biggs are expanding their line of t-shirts.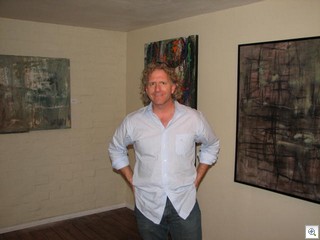 Steven Spann's become so popular that his studio is by appointment only now except on First Friday.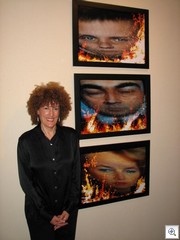 Diane Bush's "Permission to See Freely" was a hit with everyone who walked in while I was there. Diane's performance art piece with the portrait of the president and the bottle of bleach was also on display. If you missed it, here's the before during and after that became the finished work..
(Diane, I love this picture!)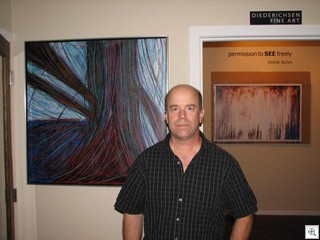 Mark Diederichsen's showing Diane this month as well as some of his own landscapes at Diederichsen Fine Art in the Art's Factory.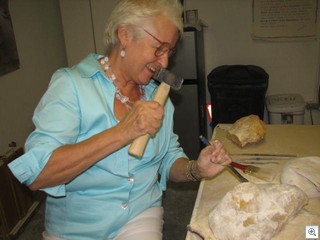 At Main and Hoover, I had Sharon Gainsburg show me that I could actually hold a chisel and not destroy the stone.
She's just the nicest lady. She made me feel like even I could do it. She gives Stone Carving and Sculpture classes and I'm tempted to maybe think about it.
In contrast, every art teacher I ever had made me feel terrible about being color blind, clumsy and careless. That's really sad.
See what I did in just 3 minutes! Not really, but Sharon did make it seem rather easy.
If you missed First Friday AGAIN……Make it a point to do it next month. And better yet, do some roaming around in the middle of of the week or on your next day off. The arts district is there every day of the year!