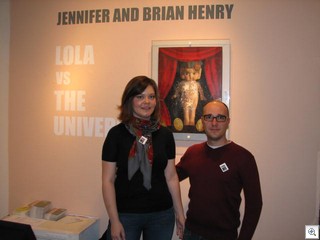 Marty Walsh at Trifecta Gallery in the Arts Factory consistantly finds the freshest, hippest and best pop artists to showcase. This month she's featuring "Lola Verses The Universe", a collabarative mixed media project by Jennifer and Brian Henry.
Jennifer also edits the First Friday newsletter.
I was thrilled yesterday to have been invited to become one of Lola's friends on Facebook. You can too!
And you can become my friend also, if you like.
If you missed it at first friday, you should stop in and meet Lola