The 2nd Annual Downtown Las Vegas Neighborhoods get-together is from 6–8 (no host) at PT's Pub on Sahara at 6th Street. Everyone's invited, whether you live downtown or merely want to. We'd love to see you. It's a great opportunity to meet a lot of really interesting people.
Brett Wesley Gallery in the Newport Lofts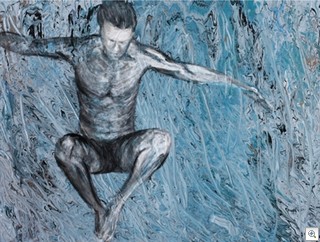 Thursday evening there will be an artist opening reception at the new Brett Wesley Gallery. It's located in a penthouse suite at Newport Lofts. 200 E. Hoover Ave. 6:30 to 9 pm.
I haven't been there yet, so…..
I'll probably try to get everyone to go over there after the Downtown Neighbors get-together. at PT's Pub on Sahara at 6th.
There's four artists showing there, including Andrew Douglas, Nathan Fischer, Matthew Hansel, and Heather Protz. Some of the Artists will be in attendance to discuss their work. Based on the photos from the website, it looks like a great exhibit, and I'm anxious to see it.
Santos Shelton – "Behind the Curtain" Opens Friday at Henri and Odette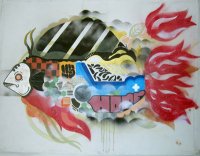 In this exhibition, California native Santos Shelton takes the world behind the curtain of society's "puppet show" to display the inner workings of government and explore human nature. With graffiti and comic book influences, Shelton brilliantly and colorfully mixes media to break the façade shielding society from reality, exposing the raw social issues that plague our government, world, and selves. His work offers a cultural and worldly perspective with symbols from his mixed Mexican and African American background, while still maintaining a Lowbrow aesthetic. His work reminds the viewer that what is out of sight should not be out of mind.
Henri & Odette
Friday December 12, 2008 6–9 PM 124 S. 6
th
Street at Carson. Suite 130.