Studio 8 Ten – A Non-Profit Art Studio And Gift Provides Employment For The Disabled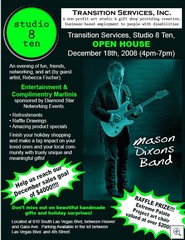 The holiday open house for Studio 10 is Thursday from 4 to 7 pm. All the information about this terrific non-profit is in the invitation. Click on it for a larger version.
I'm hoping you'll stop by there on your way to our VVV readers meet up at Frankies, which is from 6 to 8 pm the same evening.
810 Las Vegas Blvd. 4–7 PM on Thursday 12/18