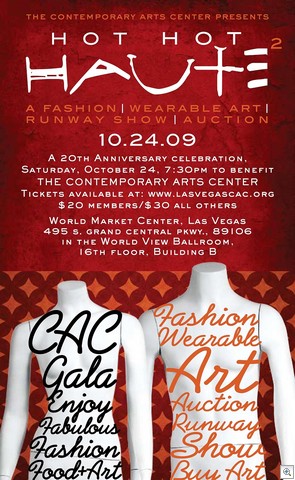 Not only is CONTEMPORARY ARTS CENTER my favorite non-profit arts organization……..
Most of my favorite downtown "characters" are involved in putting this 20th Anniversary Celebration.
For example, this is the email Princess Anne put out to her peeps:
Hello Fabulous Friends…..Please pass this along to everyone you know! Its going to be a fantastic night full of incredible works of Fashion Art…and YES!…it IS going to be a real RUNWAY Fashion Show ……..

(move over Tim Gunn!) to celebrate the 20th birthday of Contemporary Arts Center of Las Vegas

LOCATION: 16th floor of Building B at the World Market Center Las Vegas…Food by Firefly (downtowns' favorite!)….and a veritable plethora of beverages that will make you want to buy more ART!

Get your tickets online at caclasvegas.com so you wont have to stand in line…see you at the party

xos P.A.

PS: Bring your Posse!
What a great opportunity to help a great organization, and if you've never been inside the WORLD MARKET CENTER, this is a great opportunity!
Here's the official press release:
Wearable Art Runway Show and Auction /Gala
The World Market Center, 16th floor, Bldg. "B"
495 S Grand Central Parkway
Las Vegas, NV 89106
On October 24, 2009, at 7:30 pm The Contemporary Arts Center is presenting its second Hot Hot Haute wearable art auction to celebrate its 20th Anniversary by presenting the art / fashion benefit event of the year. CAC members will be asked to donate $20, and non-members will be asked to donate $30 to have the privilege to sample wine, food, and fashion, while mingling with a wild variety of art /fashion afficianados and practicioners, celebrities and wannabes.
Artists, both visual and performing (Cirque du Soleil) will be creating one of a kind wearable creations that will be presented and worn by the artists or agile models, to be auctioned off to the highest bidder. Music, food, and adult beverages will round out the experience of seeing painted bodies, haughty hats, gorgeous gowns, bizarre bustiers, sultry smoking jackets, and wearable art made of any and all materials known to man.
A plethora of celebrities and well-knowns will be competing for under and over garments, and the possibility of buying body painting services by the talented Mary Warner UNLV painting professor, whose talents will be modeled by exquisite physiques celebrating the merger of nature and art.
The Contemporary Arts Collective is a significant resource in Las Vegas representing new contemporary art by emerging and established artists. The C.A.C.'s goal is to provide a venue for artists, collectors, and all art enthusiasts to meet, get engaged with and enjoy contemporary art. Numerous creations have been submitted by local and far away artists, and the CAC Exhibition committee will soon be selecting between 40-50 works to be auctioned.
This event is an important fundraiser for the 20 year old arts organization, now the only surviving independent, non-profit art gallery organization dedicated to contemporary art in Las Vegas.
Tickets for this event will be $20 for all CAC members and $30 for non-members. For ticket information contact [email protected] or call 702-798-1819.
If interested in exhibiting work for this event you may still contact Wes Myles at [email protected]