I frequently mention First Friday as part of the ever growing art scene in Downtown Las Vegas, but there's a whole lot more than that. There's a huge MUSIC and ART scene growing up right under our loft hi-rises.
I wanted to bring some future events, current showings music and the way we're all being connected to your attention. I'd just love to plug everthing that's going on, but that's impossible. I do know that an urban lifestyle full of art and music and sense of community is just as important as big trees, big lots, and homes with charm and character and great design. They're all reasons people are chosing to move back "downtown". All of it is what's happening in "Vintage" Vegas.
Of course there's also Historic Preservation, Mid Century Modern Architecture, Hip Neighborhoods, Cocktail Parties, and lots of other forces that are in play, but we cover those pretty regularly, so today we'll just deal with the art and music scene, and getting VeryVintageVegas onto the first page if you google for Downtown Las Vegas.
Neon Reverb – The Downtown Las Vegas Music Festival

Neon Reverb the twice a year music festival. Coming to a bunch of Downtown Las Vegas Bars and Nightclubs March 12–15, 2009 The rundown is on the NeonReverb Website. There's a Facebook group for Neon Reverb as there is for much of the Downtown Las Vegas Scene.
RELEASE at the Aruba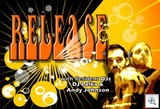 There's also the whole world of techno/house DJ late night insanity. I'm a little old for this, but I hear there's a BI-Weekly party at the Aruba. The next one is Saturday December 10th. More details at the Release Website
Paco and Derek swear they're dragging me to it.
Music Every Night
There's live music almost every night of the week in Downtown Las Vegas. Some of it's at the hotels, some at the bars, some at the Fremont East Entertainment District. Take a stroll almost any night on Fremont Street. Don't forget Karaoke at Dino's on Thursdays and Fridays at 10, and live bands on Fridays from 10 to midnite followed by Karaoke. There's 2 or 3 bands every weekend night right there on the stages of Fremont Street Experience.
About.com has links to live music venues through out the valley, but you'd be surprised how much of it is centered on the strip and in downtown. The suburbanites need to do the driving.
Las Vegas Weekly and Las Vegas CityLife, are also the place to find out about all things music, as well as some of the best blogging about Las Vegas in general.
Light My Fire – Hedwig And the Angry Inch – An Evening With Billie Holiday

3 current productions from Colabo which is dedicated to "Unity of the Races Through the Arts" They perform at the Family Music Center way out west at 8125 W. Sahara. I guess I'll just have to break the 3 mile rule since I missed the preview of Hedwig which was performed at First Friday last week.
Contemporary Art of Las Vegas
Contemporary Art of Nevada is a new facebook group that's hoping to bring together the entire Downtown Las Vegas Art Scene.
Jacie Urquindi-Maynard started the group just a few days ago, and it's growing quickly. I had once intended for VVV to act in that capacity, but it's way too much for me to keep track of. A Facebook group like this is the perfect solution. The description of the group is:
Contemporary Art of Las Vegas has been created for all the artists of Las Vegas and surrounding areas to participate in uniting the local art community and facilitate in the dissemination of updates, events, thoughts and the passion of art…

Everyone, including those who support LV artists are welcomed to share in this on-line gallery experience. Please post your latest work, videos and photographic images for all to enjoy. Keep us informed of all events, exhibitions and happenings. As we grow, the featured profile photo will be chosen from the participating artists. So send in your work. Please limit your uploads to 20 pics per album.

Together we can make a difference. Here's to "Art"!
SinCityArtGroup
SinCityArtGroup posted it's monthly First Friday Video Compilation.

First Friday Las Vegas January 2009 Video from sincityartgroup on Vimeo.
SCAG has made several other videos, but I especially wanted to draw your attention to this one about the current show "Pressing the Limits" which shows until January 23 at the Contemporary Arts Center in the Arts Factory. It's the hub of the Downtown Las Vegas Arts District and is located at Main And Charleston.

CAC Pressing the Limits from sincityartgroup on Vimeo.
Southern Nevada Center For The Arts – In Neonopolis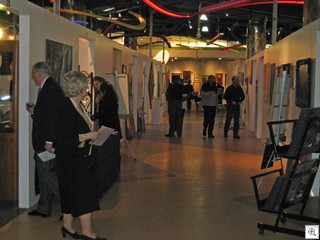 The Southern Nevada Center for the Arts is having its Grand Opening January 23 – 25, 2009. This is a great time to come down and check out the facility if you haven't already. There will be live music, art demonstrations, and 30 galleries and artist studios will be open. Upcoming class and workshop schedules will be available. A ribbon cutting ceremony will be held on Saturday. Events run Friday and Saturday 10am – 8pm, Sunday 12pm – 5pm. 450 Fremont Street, Second Level of the Neonopolis. For more information visit http://www.artcenteronline.com/
Lots of our favorite artists, such as Leslie Roland, Frenchy, and Architect Stephen Jackson have made it their new home.
AND next door at the Neonopolis is the Southern Nevada Museum of Fine Art. They're also holding an opening night party for it's new show on January 24th from 5:30 to 8:00 PM.
Naomi Arin Contemporary Art (formerly DUST GALLERY)
One of my personal favorite galleries in the Downtown Las Vegas Arts District is Naomi Arin Contemporary Art on the ground level of the Soho Lofts. Naomi is presenting a seminar on "Art Collecting for Investment" on January 21 and cordially invites you to register and attend. I'll know I'll be there.
Naomi Arin Contemporary Art (NACA) cordially invites you to attend a complimentary seminar on Art Collecting for Investment, Wednesday, January 21, from 6-7:30 p.m. at the gallery (900 Las Vegas Boulevard South, Suite 120-B).
NACA owner and art adviser Naomi Arin, recently interviewed about the art market for National Public Radio's "Marketplace" program, will provide an overview of the art market and how both experienced and novice collectors can incorporate it into their investment strategies.
Arin introduced a program of contemporary fine art with global significance to downtown Las Vegas when Dust Gallery opened on Main Street in 2003. Previously, she served as a private-practice attorney, as well as Director of Corporate and Foundation Giving at the Institute of Contemporary Art, Boston. Arin's understanding of the art market helps her clients make sound investment decisions.
"My objective is to help corporations and individuals understand how to meet their investment – and aesthetic – goals," says Arin. "It's exciting for me to watch clients' desire to diversify their financial portfolios develop into a real passion for collecting art.
"There's never been a better time than now to include contemporary fine art as part of your investment strategy."
For more information about the free seminar and to register to attend, call 702.324.5868 or send an email to [email protected].