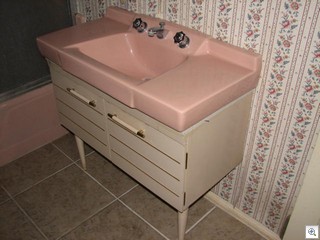 I'm going back to see the house (which is absolutely not Mid Mod) this afternoon. I got there after dark, and showed it with a flashlight, and just about spit out my teeth when I found this retro pink bathroom vanity. It's as out of character for the house as the house is out of character for the neighborhood.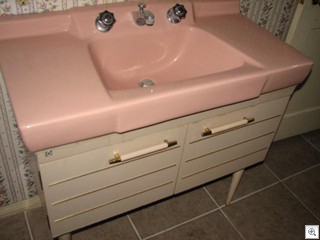 I've never seen this pink mid mod sink before – anywhere. The stilleto heel legs and gold inlaid lines on the suspended vanity are killer enough, but the double wide sink itself is amazing.
I clicked over to Retro Renovation because I was sure Pam was going to want to add this one to the Save The Pink Bathrooms Collection. But, alas, someone else beat me to it.
The house itself is so out of character for Las Vegas that it deserves it's own post, so I'll be photographing it for you today. Here's a hint: The wallpaper is right for the house. Watch for it.
U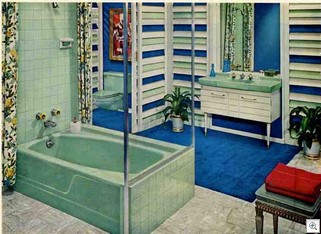 PDATE: Pam commented (see the comments – and leave one yourself) giving us a link to an American Standard Advertisement from 1959 for this same sink and vanity.