Jaycee Park at Eastern and St. Louis Ave has a whole new look, new features and a new name. Now it's Justice Myron E. Leavitt Family Park.
The Grand Opening Ceremony will be this Monday, February 23, at 2:30 pm. If you're able to attend, we'd love to see you.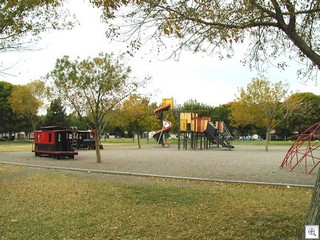 This photo is from the old Jaycee Park. The park has been re-configured to add a parking lot, lighted soccer field, 2 baseball fields, Bocce Courts, a fitness course, horseshoe pits, 3 jogging walking trails, EXPANDED DOG PARK, lots of open space, and lots of shade. Just in time for the springtime weather which I hope has come early to Las Vegas.
Several years ago, I suggested and pushed Mayor Pro Tem Gary Reese to add the dog park to Jaycee Park. He listened as he usually does. Gary is the host for the grand opening festivities at Justice Myron Leavitt Family Park on Monday. Now that it's re-opening, it gives me another park to show off when I'm promoting the downtown historic neighborhoods of Las Vegas. My beagles used the dog park and the walking trails alot, and have missed them during the last year while the park was closed for re-modeling.
I'll be there with camera and beagles in hand, and will show you what we have to look forward to in the way of a spiffy new park that can be enjoyed by all of our eastside Vintage Vegas Neighbors.