Last night was all about the movies. The Acadamy Awards show was one of the best that I've ever seen. I guess I'm just going to HAVE to go see Slumdog Millionaire.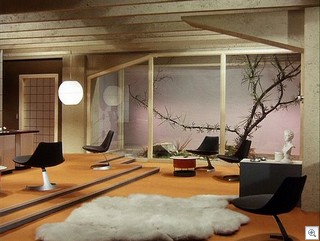 But the real topic is a terrific site that I found. I regularly read The MidCenturyModernest blog. There I found a link to a site I think you'll love, and there's certainly a movie connection. The website is called SpyVibe. There's a sister blog that goes with it. I kept bouncing back and forth. You will, as well. It's a lot of fun.
There's some great discussions of the style and aesthetic of the spy era. It coincided with the "Rat Pack" era and the Playboy era. All of them led the way in showing modernism to the masses. When it came to cool, it's certainly Sinatra and Martin and Bond and Hefner who first come to mind. Oh how I always wanted to be like them.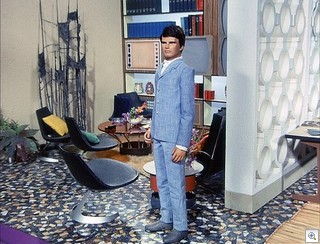 Currently, SpyVibe is doing a series on the sets of the great spy vs. spy and sci-fi movies and TV shows such as In Like Flint, James Bond, Avengers, U.N.C.L.E and Captain Scarlet.
Don't start reading these sites at work. We don't need anyone else to be unemployed.