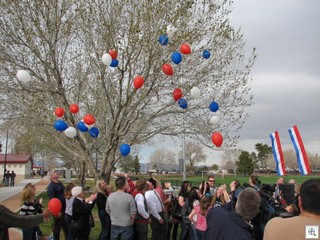 All the pictures are in an album on my Facebook Page, but here's a few highlights from the grand opening ceremony which was on Monday. Myron Leavitt Family Park is a welcome addition to Downtown Las Vegas.
About 100 people where there, as well as many others who weren't there for the ceremony.


We've got new playgrounds, baseball diamond, soccer field, bocci ball courts, shade gazebos, walking trails and much more.
Of Special note are the expanded dog runs. There's two separate fenced areas. One is for small dogs and one is for big dogs. They've added egress cages to keep fido from sneaking out, and there's crushed rock as well as grass areas, plenty of shade and benches and water fountains for the pooches as well as the people. It's a great place to hang out and meet Vintage Vegas and Downtown Las Vegas neighbors.
Meet Maggie, Bayley and Shadow….my 3 beagles.