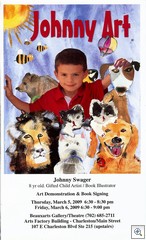 8 year old gifted child artist, Johnny Swager is doing a demonstration and book signing TONIGHT ONLY during the First Friday Extravaganza.
He'll be at the Beauxarts Gallery/Theatre in the upper level of the Arts Factory.
I found his work quite fun. I think you will also.
At his publisher's website, I found the following blurb about his book, which is called "Johnny Art – the Art of Johnny Swager"
Johnny Art is about the life and art-making of seven year old Johnny Swager. Johnny is an extremely gifted boy who is not intimidated by any subject. His work exhibits a confidence rarely seen in children and a freshness that only a child can bring to the canvas. Collectors, art teachers, and critics are captivated with Johnny's ability to render subjects with such maturity and painterly skills.