A huge thank you to Andy Taylor (no not Opie's dad) from the View newspaper that arrived in today's RJ.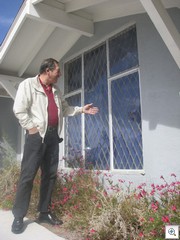 We spent 2 afternoons together last month. I showed him the Vintage Vegas neighborhoods; the differences between "ranch modern" and "desert modern" and introduced him to the whole concept that we call VeryVintageVegas.
I think he nailed it. There's little in the article that you haven't read or seen discussed at length on VeryVintageVegas, but there's a MULTITUDE of people living in Vintage Vegas that have never heard of me or VeryVintageVegas, and certainly have no clue about the architecture, style or concept of Mid Century Modern. Hopefully we reached a lot of them with this article.
It was supposed to only be in the Whitney View, which is distributed east of Eastern Avenue, but it ended up in the Downtown View as well, so it got even greater coverage.
Here's the beginning of the article, in the online version. You'll see why I'm so happy with it.
Las Vegans celebrate and work to preserve vintage architecture

Jack LeVine is a man who knows his local history, architecture and real estate and isn't shy about expressing his opinions on the subjects. As he peeked into a 50-year-old home for sale on a recent excursion, he pointed out a newly remodeled kitchen.

"Look at that," he said. "Crown molding and granite-topped island. They're idiots. They think they're fixing it up, but in the long run, they're just lowering the value of it."

LeVine is a real estate agent who specializes in mid-century modern homes. His Web site, VeryVintageVegas.com, is a combination real estate sales tool and love letter to classic Las Vegas architecture and the lifestyle of Vegas in the days of the Rat Pack.

"Mid-century modern is a catch-all phrase for post-war housing from about 1950 to 1970," LeVine said.