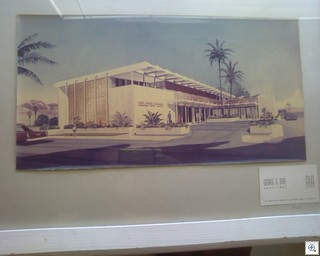 One of our readers found this Architect's drawing at a garage sale in Westleigh the other day.
I can't for the life of me recall ever seeing this building. Do any of you have a clue?
Maybe it never got built? Maybe it's in some other city?
I'm hoping it didn't get torn down before we were paying attention to such things.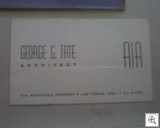 George G. Tate is the architect. I started googling and found that his firm was founded in 1960 in Las Vegas. It later became Tate Snyder Kimsey and is still in operation. George's Biography on the website is worth looking at also, but it's a flash site so I can't copy and paste it. It does say that he retired in 1995.
I'm also curious as to what the phone number exchang DU– stood for. When I was kid our number was Belmont 5–1169. Anyone remember the exchange abreviations for Las Vegas?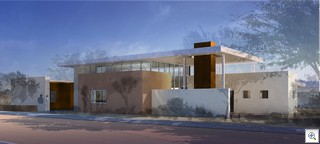 It's always fun to look at the websites of the various architects as there's alway interesting things to see and history to be uncovered. On the TSK site I found the coolest modernist project that's dated 2007. This was just as the market was turning, and I've never heard of "The Enchantment Way" as ever having been built. Even the website for it seems to be frozen in time at 2007.
So once again, I just spent a pleasant hour googling, when I was supposed to be catching up on paperwork.