Will Lizarraga and his sister Yocelin moved into Paradise Palms a few months ago. They had me scratching my head when I first met them to show them homes. Here was a living breathing paradox. Second generation Hispanic American kids who were in love with all things 50's. I just didn't get it.
Will's restoring a 54 Ford. They'd been regular readers of VeryVintageVegas for months. They wanted a mid mod, and ONLY a mid mod. Ranch Modern was fine, as long as it had a big wall of glass, and a really cool fireplace. The got everything they wanted. Their fathers been helping them with the painting and fixing and redecorating. I just got invited to the house warming party.

I've mentioned will before, because he's the lead singer of "Will and The High Rollers", which is one of the great local rockabilly bands. I went to see them at Fremont Street Experience last fall and had a rockin good time.
But, I still didn't get the connection. My MID MOD frame of reference screams RAT PACK, not Rockabilly. But connected they are. Where do Rat Pack and Rockabillly merge, you ask? In the architecture and the furniture and the clothes. Will sent me over the video below to tell us how and why.
From watching this video, I learned a few new expressions, and it all finally clicked into place for me. I think it will for you as well.
If you actually click on this link and watch it at YouTube, you'll find that it's part of a whole series telling the Rockabilly story. They're all right there in the related video section. Start with chapter one, turn up the volume and just keep on rockin.
Viva Las Vegas 12 Rockabilly Weekend
If you really want to get it into it, VivaLasVegas 12 is coming April 9–12  . It's a whole weekend of everything Rockabilly. All events for the entire weekend will be at the ORLEANS. Will and the Hi-Rollers are playing, as well as an ALL-STAR LINE-UP.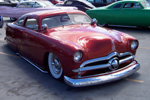 Saturday is a 1950 to 1963 car show. This should be a gas.
But wait, there's more….Charles Phoenix is doing a slide show! and there's going to be a burleseque competition and show!  
Make sure you get your tickets early. It should be quite a shin-dig.