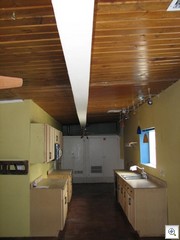 Tongue and Groove, beamed ceilings though the entire house would certainly qualify as fun features. Exposed beam ceilings are one of the most sought after (and fairly rare) features of Mid Mod architecture.
I'm pretty sure the rest of the stone fireplace is hiding behind someone's ill-thought attempt to drywall over it. Fireplace walls of stone and brick should not be covered over.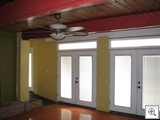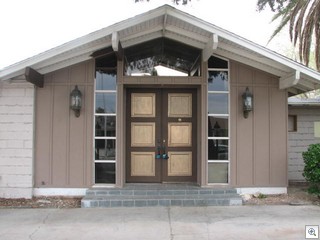 A 2 sided clerestory windowed entry qualifies as well.
Clerestory windows are on just about everyone's favorite features list.
Clerestory windows are above eye level. They allow for lots of light, and maximum privacy.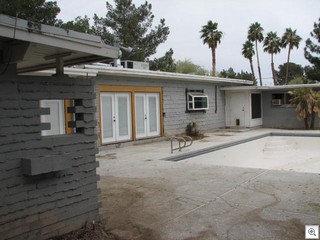 So would the unique weeping brick stone work.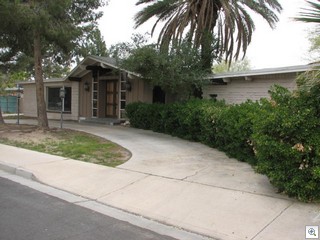 Unfortunately, there's a lot of unfinished projects that had been started that need to be completed, or un-done, an empty pool that needs re-plastering and someone needs to pay some close attention to the details. But there's some terrific bones to work around.
This one's on Sherman Way at the corner of Buehler in McNeil. It's one of the earliest sections of McNeil and has several very nice desert modern homes. There's almost 2700 sf, with 4 bedrooms and 3 bathrooms. AND it's one of the lowest priced home we've seen in McNeil for the last 5 years, at 209,500.