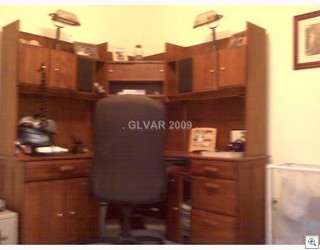 I wonder if the office furniture is included.
It reminds me of my own desk. The empty chair just sits there reminding me that I wish I had more time in each day to sit down and blog for you. I've created a pretty big monster – in a good way.
I've been too busy doing appearances on the news, and the radio, and interviewed for the Las Vegas Sun, showing houses and writing offers and negotiating deals, and staying (almost) on top of all the paperwork to get my regular blog posting done. I'm feeling guilty, but I'm sure you'll understand. And remember – in everything I'm doing, it's to promote the historic neighborhoods, mid century modern homes and Urban Living.
I'll have the links for you and more later today or tomorrow. Promise!
The only thing worse than a bad picture is NO PICTURES AT ALL!