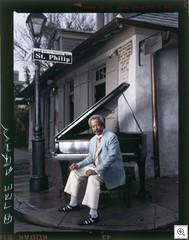 The FREE Jazz in the Park Series starts Saturday Night at the Clark County Amphitheatre at the CC Government Center. 7 to 9 PM
"The Bright Mississippi", Allen Toussaint's first solo album in more than a decade, will be released by Nonesuch Records on April 21, 2009. The CD comes close on the heels of Allen's recent high profile presence at the 2009 Grammy Awards where he was a featured interviewee in the Grammy Legends series as part of Grammy week. At the Grammys themselves, Allen was honored with the prestigious Trustees Award and participated in the worldwide broadcast in a segment also featuring Lil Wayne, Terence Blanchard and The Dirty Dozen Brass Band.
Culture and History Are on display this month. Anyone who thinks there's nothing to do in Las Vegas just aren't paying attention.
I'll remind you again about the Culture and History Fair At the Springs Preserve in Saturday May 9 from 10am to 2pm. It's a FREE way to find out about everything that's going on.