Groundbreaking Schedule For The Smith Center For The Performing Arts Is Announced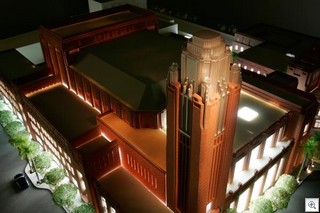 To celebrate the beginning of its official groundbreaking construction, The Smith Center for the Performing Arts (in Downtown Las Vegas) is working with The Verdin Company and Mobile Bell Foundry to cast a commemorative bell on-site beginning Sunday, May 24, 2009. The brass bell will be poured and polished at the construction site during a series of celebrations set for Memorial Day weekend. The events will culminate with the first ringing of the bell during the official groundbreaking ceremony on Tuesday.

Sunday, May 24, 2009
Ingot Ceremony, 11:30 a.m.
The public is invited to watch as children from all over the valley assist in passing the bronze ingots into the furnace where they will be heated to 2200 degrees.

Bell Pouring, 6:30 p.m.
Watch as the molten metal is poured into a custom inscripted mold made especially for this historic event.

Monday, May 25, 2009
Bell Breakout, 10 a.m.
After the bronze has cooled and is ready to go, watch The Smith Center shatter the mold and produce a brilliant bell.

Tuesday, May 26, 2009
The First Ring & Groundbreaking Ceremony, 10 a.m.
Once the bell has been polished, it will ring in a new era in downtown Las Vegas as the ceremonial first peals announce the official groundbreaking for The Smith Center for the Performing Arts.

WHERE: The Smith Center for the Performing Arts Construction Site
Entrance to the construction site is located in Downtown Las Vegas. It's on Grand Central Parkway, just north of Bonneville Avenue.