New Downtown Aerial Gallery Banners On Las Vegas Boulevard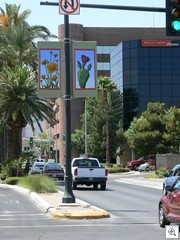 A series of 24 hand-painted images by Dennis Angel, entitled "Desert Transplants," now is displayed for public enjoyment in the city of Las Vegas Aerial Gallery downtown on Las Vegas Boulevard. The Aerial Gallery is a public art "streetscape enhancement" project designed to bring more visibility to the arts downtown. The project features a mile-long banner display on six poles along the median of Las Vegas Boulevard from Charleston Boulevard north to Stewart Avenue. Streetlights on the poles illuminate the three-foot-by-eight-foot banners at night.
Commissioned by the Las Vegas Arts Commission, the works feature flowering desert plants. The banners are unstretched military tent canvas, painted with high-quality, outdoor acrylic paint that is resistant to fading and ultraviolet light. The current banners are scheduled to remain on display through January 2010.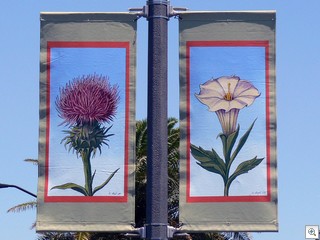 Angel moved to Southern Nevada in 1991, and currently is a professor at the College of Southern Nevada. He maintains a studio in downtown Las Vegas and specializes in original mixed media paintings. His works have been featured in more than 200 exhibitions and acquired for private, public and corporate collections throughout the United States. Angel earned his Master of Fine Arts degree at Indiana University and his Bachelor of Fine Arts degree at the University of Oklahoma.
Now in its ninth year, the Aerial Gallery has exhibited works of many local artists who are part of the Las Vegas Arts Commission's Artist Registry and who have been involved in working in the downtown arts neighborhoods. To see some of the images online, go to www.lvartscommission.com/projects/aerial-gallery-2009. For more information on Dennis Angel, visit his Web site at www.dennisangelstudio.com. For more information about the Aerial Gallery, please call (702) 229-5256