Las Vegans Invited To 70th Birthday Party For Mayor Oscar B. Goodman – Friday July 31, Fremont Street Experience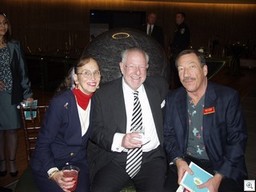 It's the Mayor's vision for downtown that spurred me to create VeryVintageVegas in the first place. We've been on parallel tracts for many years. He's promoted the revitalization of downtown proper, and I've been promoting a new "urban living" with the gentrification and preservation of the historic neighborhoods surrounding downtown. It's been a three steps forward one step back game, but the redevelopment of downtown, and the preservation of the neighborhoods marches on.
I'll be there, and I'm hoping all the downtown residents and wanna be residents will show up as well. There is a $20.00 donation to charity, but we can certainly show the mayor that he has our support!
LAS VEGAS – July 22, 2009 – Las Vegas Mayor Oscar B. Goodman will celebrate his 70th birthday in style on Friday, July 31 with a public birthday street party on Fremont Street Experience.

"It'll be a blast!" Goodman said. "I'm inviting everyone to leave their worries behind and join me for a one-of-a-kind evening that will benefit three local charities. I can't think of a better way to celebrate my birthday than to share it with the citizens of fabulous Las Vegas!"

Fremont Street Experience is currently in the middle of its Summer of '69 festival and concert series and Mayor Goodman's birthday street party fits right in with the festivities.

"We have the `happiest mayor in the universe' and with Fremont Street Experience currently the `hippiest place in Las Vegas,' we are proud to host the mayor's birthday party," said Jeff Victor, president of Fremont Street Experience. "We are excited that the mayor decided to make his birthday a public event to raise money for three fantastic local charities."

Mayor Goodman's 70th Birthday Celebration will be a Fremont Street Experience "street party" at the First Street Stage plaza next to Golden Nugget from 7-10 p.m. on Friday, July 31. There will be special entertainment and appearances from performers throughout Las Vegas and a ceremony on stage with Mayor Goodman will take place from 8:30-9 p.m. Admission is a $20 donation and will be sold at the entrance gate.

Charities will receive 100 percent of money donated with funds raised going to Cleveland Clinic Lou Ruvo Center for Brain Health, Opportunity Village and Three Square.

Bombay Sapphire Gin, the Mayor's gin of choice, will be the drink of choice at Goodman's 70th birthday party. In celebration of the occasion, special "Good-Man Martinis" will be served inside the party on Fremont Street Experience. With the $20 charitable donation, street party participants will receive two "Good-Man Martinis" or other gin mixed drinks made with Bombay Sapphire, plus a commemorative T-shirt and button.

"This is an opportunity for all Las Vegans to participate in celebrating the 70th birthday of our very popular mayor," said Michael Severino, general manager event marketing of Southern Wine & Spirits of Nevada. "I thank Bombay Sapphire for helping with this `fun-draiser' and we look forward to a great time."

Fremont Street Experience is producing a special tribute to Mayor Goodman that will play during the ceremony on Viva Vision, the world's largest video screen. United States Bartenders Guild will also make a special presentation to Mayor Goodman. Golden Nugget is the host hotel property for the birthday celebration.
"We look forward to the Golden Nugget's involvement in this festive occasion," said Brett Kellerman, chief operating officer of the Golden Nugget. "We are pleased to be helping raise money for these great local charities."
In April 2007, Mayor Oscar B. Goodman, the 19th mayor of Las Vegas, captured 84 percent of the vote in his reelection effort to a third 4-year term.
As mayor, he was successful in acquiring a large piece of urban real estate in the city without resorting to eminent domain. Symphony Park, a phenomenal 61-acre planned development, will include the Cleveland Clinic Lou Ruvo Center for Brain Health, designed by renowned architect Frank Gehry, the Smith Center for the Performing Arts, multiple high-rise residential units, business and retail opportunities. Downtown is undergoing a dramatic change, evolving into a vibrant place for living, working and enjoying entertainment and art venues. Bounding Symphony Park are the World Market Center and the Las Vegas Premium Outlets mall. The World Market Center is a state-of-the-art home furnishings trade show facility. When complete, the complex will exceed 12 million square feet with eight buildings. The outlet mall is the most successful of its kind for dollar-per-square-foot income. In addition, there are almost 18,000 living spaces being planned for construction in downtown. Also, for the first time in many years, multi-million dollar casino and hotel renovations and expansions are currently underway.
Mayor Goodman has been a champion of downtown revitalization, focusing his efforts on creating a downtown urban village filled with small businesses, boutiques, fine restaurants, bookstores and an art component where the public can have social dialogue and exchange ideas.
Mayor Goodman serves as the chairman of the Las Vegas Convention and Visitors Authority and feverishly works to promote the enticing destination of Las Vegas. Mayor Goodman has also started OPAC, Oscar's Political Action Committee, to promote and protect the interests of Las Vegas. His first action was to donate $50,000 to the Keep Memory Alive Foundation, the think tank foundation for the Cleveland Clinic Lou Ruvo Center for Brain Health.
The self-proclaimed happiest mayor in the universe, Goodman was born and raised in Philadelphia, graduating from Haverford College and receiving his law degree from the University of Pennsylvania Law School. He has become one of the nation's premier criminal defense attorneys, having been named one of the "15 Best Trial Lawyers in America" by the National Law Journal. He has also been featured in numerous publications such as "Of Rats and Men" and even portrayed himself in the movie "Casino." Mayor Goodman also serves on the Advisory Board of the U.S. Conference of Mayors.
Goodman and his wife of 46 years, Carolyn, moved to Las Vegas in 1964 with $87 in their pockets. The couple raised four children in Las Vegas. All four currently make Las Vegas their home. All were educated in Las Vegas and went on to acquire college and graduate level degrees.