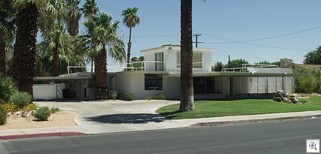 There's one particular mid century modern home that has turned more heads, and generated more discussion than any other home in Vintage Vegas. It's the Mel Close Home at the corner of 15th and Oakey in the Marycrest Neighborhood of Downtown Las Vegas.
Mel Close was a county commissioner in the 50's or 60's. The home is notable because the roof of the home is a solid concrete slab. and it's truly an iconic example of desert modern.
I had it listed a year and a half ago, and got it sold for 500,000. The current owners made changes to the bathrooms, kitchen and flooring, but it's still architecturally intact. Now, it seems, it's headed back to the bank. I'm sure they'll list it for 12 dollars or something silly like that.
There's a lockbox on it suddenly, this weekend, but I don't see that it's gone back to the bank yet, so for the moment, the status remains a mystery. Trust me, I'll be watching.