UPDATE: The photos below are mine, but professional photographer Larry Burton shot the whole event while I was busy dancing. He's posted his entire gallery and shared the link with us.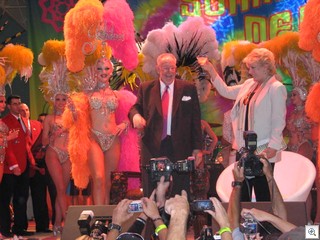 Mayor Oscar Goodman celebrated his 70th birthday with a couple thousand of his closest friends.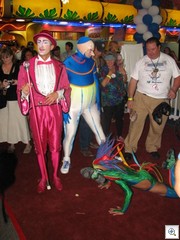 Cirque du Soleil performers work the crowd.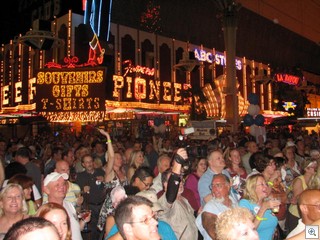 Massive crowds!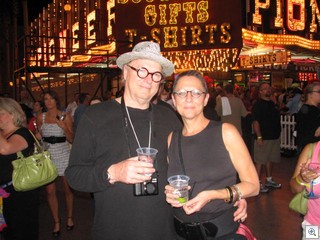 John and Aleda Van Hamersveld. John's the iconic artist of the hippie era. Make sure to visit his "Hippie Nation" gallery on Fremont Street (Next to Mickie Finz)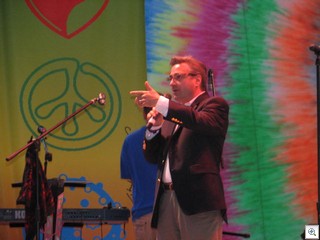 Jeff Victor, the President of Fremont Street Experience, welcomes the crowd.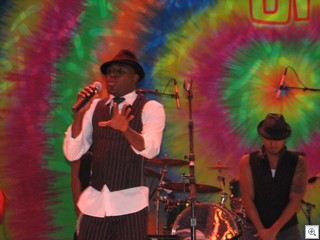 Wayne Brady performed.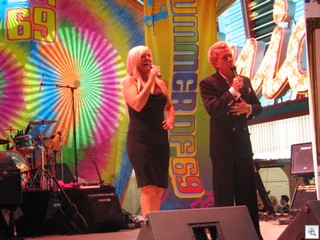 And so did Zowie Bowie.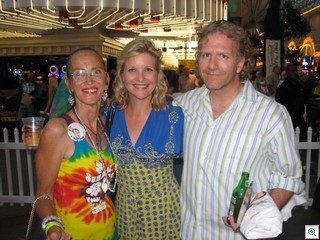 Mary Joy Alderman, Steve and MaryEllen Spann.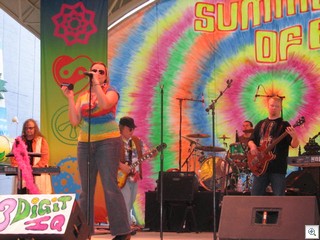 This is the best cover band I've ever danced to. We really kicked it up for hours after the official party was over. "3 Digit IQ" played what seems to have been the ENTIRE 60's and 70's rock songbook.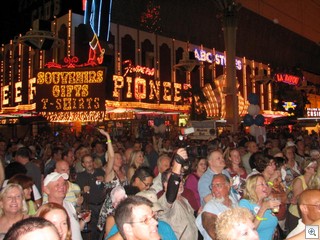 We also spotted Planning Commissioner Steve Evans, Dede Nave of the Jr. League, Downtown Steve, Councilman Gary Reese, Pam Hartley, Steve and Susan Dean, Trinity Schlottman from the Urban Lofts, Brett Wesley, Aaron Sheppard, Justin Favala, Bob Forbus, Derek Washington, Brian Paco Alverez, Terry Wilsey, Tom Bruny, Shawnee (who also had a birthday that night), Tanya, and a whole lot of familiar faces that don't have names attached to them in my brain.
AND, there's more…….
I finally got a video of the "hippie nation" VivaVision show. There's a fun little spontaneous dance going on at 1:40.
I've seen the show a dozen times now, but to catch a video of it with the artist John Van Hamersveld taking pictures of his work on the VivaVision was a real treat that I just had to share with you.