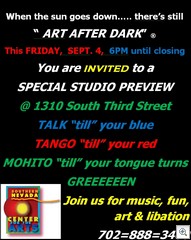 We've totally forgotten to tell you that the Southern Nevada Center for The Arts has re-opened at 1310 S. Third Street. It's a whole mall of artists all in one spot! They have terrific space now. It's a building I've wanted to see become art space for years, and it's finally happened.
These are great new digs and we should definitely check them out at the "soft opening" at First Friday. It will be right on the new ACE Transit Line, 3rd street is majorly under construction at the moment, but will give them terrific visibility in the near future.. Take a stroll around the corner from the street fair at First Friday and check them out.
Many of our favorite artists are taking up residence there, including Steven Jackson, the architect, James Donahue, Gregory Colhouer, Ernesto Chavez, Susanne Freitag, Ruth Hunter, Isabelle (Frenchy) Michaud, Sharrie Westeren, Robbie (Ruby Vegas) Bustos and many more to come.