The first I want to tell you about has my blood boiling in a good way. Brett Wesley Gallery is now in it's BRAND NEW BUILDING at 1112 S. Casino Center at the corner of Charleston. You can't miss it because it's the FIRST BRAND NEW Mid Century Modern Building in Las Vegas since……let's say…..the middle of the last century.
I'm not even going to tell about the artists that are showing. Previews of the works to be displayed are on the Brett Wesley Gallery Website. I will tell you, however, that Brett designed the building himself. It beautifully encompasses all the elements of Mid Mod and Googie that Alan Hess spoke about this last few days. Since thousands of you missed the bus tour and the lecture, here's a good opportunity to see a terrific example for yourself.
The Grand Opening is Thursday Night, October 8th from 6 to 9:30pm.
We've been regularly attending openings at Brett Wesley Gallery at the Newport Lofts for the last year. We've never been disappointed in the artists or their work.
Now, with the first entirely new gallery (and we hope there will be many more), there will be regular hours and many more emerging artists that can be showcased than was possible in the temporary space at Newport. Brett and Victoria have a great eye for spotting talented artists.
VeryVintageVegas is wishing them huge success. Come out and join the festivities for the Grand Opening this Thursday. If you can't, I'm hoping you'll drive into the parking lot and take a gander. That's one of the best features of Googie!
Brett and the new Gallery have recently been featured in KNPR's Desert Companion as #20 in the "25 Reasons For Art Optimism" article in last month's edition. As well, there's a terrific article "Investing In The District" by Kristen Peterson in the Las Vegas Sun.
MaryJoy says the outfit she put together for the opening is "DQOTT". You'll have to ask her yourself what that means. I'll wear my best Fedora and try to keep up. We hope to see you there.
TINOCO'S KITCHEN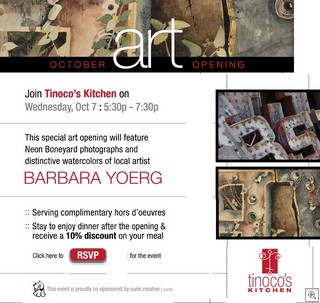 Our favorite downtown Italian eatery is Tinoco's Kitchen. This summer they relocated to The Las Vegas Club at 18 East Fremont.
Not only is the food great, but they've made the restaurant into an art gallery.
The show has just changed and the opening reception is TODAY October 7th from 5:30 to 7:30 pm.
Photographs from the Neon Boneyard and the distinctive watercolors of local artist Barbara Yoerg will be on display for the next month.
Stay for dinner and receive a 10% Discount.