"There's no culture in Las Vegas", he said sarcastically, "but, I'll attend The Vegas Valley Book Festival anyway…..just on the off chance they're wrong".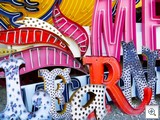 That's going to be the opening line if I ever get around to writing that novel (or not). As much as I whine about not having enough hours in the day, I still read an hour or 2 each day. I particularly love long epic sword and sorcery novels and serials. I do Sci-Fi. Any hero with super powers will strike my fancy. I even read an occasional Biography.
I'm not into poetry, or children's books, or horror. Comic books on the other hand were a passion in my youth and 20's. I phased out of the comics and into the fantasy realm, but still love all the movies based on my childhood heros – especially Superman and X-Men.
There's something at the Vegas Valley Book Festival for just about every genre. There's more events than I'll have time for. If I had kids, I wouldn't want to miss the Children's Festival.
I received this little email from my friend Richard Hooker, who is officially the "Sr. Cultural Specialist" for the City of Las Vegas. In that capacity, he's primarily responsible for creating and scheduling the festival. He deserves a huge round of applause for a terrific line-up.
Hi Jack,

If you are updating your arts news, it's the big week for the Vegas Valley Book Festival!

There are 5 evening events, Wednesday thru Sunday. Plus, there's the book festival sessions, the Children's festival, and the comic book festival, all on Saturday — it really is the biggest day for literature in Las Vegas, or Nevada.

Check out the Wednesday evening talk about the spectacular museums that have built around the world –and how Las Vegas measures up. How often do you get to meet and hear Kay Ryan, the Poet Laureate of the United States reading her own works? You can do that on Thursday night.

Friday night, in conjunction with First Friday, you can jump on the double decker bus as it becomes the "sonateer poetry express". Tool around the arts district on First Friday with a team of poets led by Jarret Keene. It begins with Mayor Goodman and Dayvid Figler reading haiku poems at 6 pm on the Book Festival stage on Casino Center south of Charleston.

Who says Las Vegas has no culture?

Hope all is well in the world of commerce and arts.

Richard Hooker
I'm surprised that Richard didn't mention E.L. Doctorow – The closing Keynote Speaker on Sunday night.
Make sure to say hello if you see me at one of the events.