I've been a lifelong fan of Mark Twain. I never knew that he'd written an unpublished play.
From 702Events
Is He Dead? A Comedy by Mark Twain Adapted by David Ives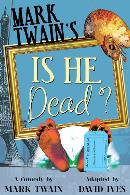 Las Vegas Little Theatre presents Mark Twain Comedy – Is He Dead?
When asked to name a famous playwright, many audience members will offer up names such as Williams, Ibsen, Mamet, Shakespeare, and (perhaps begrudgingly) Neil Simon. Now there's another name to add to the list. The name of a man whose novels have been read and loved by millions. This new playwright? Mark Twain.
In 1898, Mark Twain was suffering from financial hardships, as well as the recent loss of his youngest daughter. There were those who wondered if the famous author would ever find his humorous muse again. Twain's response was to write IS HE DEAD?, a high-spirited romp that he planned on premiering simultaneously in New York and London. But the play was never produced, and remained largely unknown.
IS HE DEAD? was first published in print in 2003, after Mark Twain scholar Shelley Fisher Fishkin read the manuscript in the archives of the Mark Twain Papers at the University of California at Berkeley. The play was long known to scholars but never attracted much attention until Fishkin arranged to have it published in book form. She later played a primary role in getting the play produced on Broadway in 2007. And now the Las Vegas Little Theatre is giving local audiences its chance.
IS HE DEAD? focuses on Jean-Francois Millet, a young painter of genius, who is in love with Marie Leroux, but in debt to a villainous picture-dealer, Bastien Andre. Andre forecloses on Millet, threatening debtor's prison unless Marie marries him. Millet realizes that the only way he can pay his debts and keep Marie from marrying Andre is to die, as it is only dead painters who achieve fame and fortune. With the help of his friends, Millet fakes his death and prospers, while passing himself off as his own sister, the Widow Tillou. Now a rich "widow," he must find a way to get out of a dress, return to life, and marry Marie.
The cast features Tony Blosser as "Millet"; TJ Larsen as "Chicago"; Scott DelGuidice as "Dutchy"; Brian Scott as "O'Shaughnessy"; Ed Knutson as "Papa LeRoux"; Joel Wayman as "Andre"; Renee Valdez as "Marie"; Carla Chiron de la Casiniere as "Cecile"; Gloria Hoffman as "Mme. Bathilde"; Mary Ann Hebinck as "Mme. Caron"; and Dave Pomeroy in multiple roles. Directing this wild production is Joe Hammond.
IS HE DEAD? by Mark Twain, adapted by David Ives, will be presented live on stage at the Las Vegas Little Theatre, 3920 Schiff Drive in Las Vegas, from November 6-22, 2009. Thursday, Friday, and Saturday evening performances begin at 8 PM, and Sunday matinees start at 2 PM. Tickets are $22 for adults, and $19 for students and seniors. For more information, and to purchase tickets, please visit www.lvlt.org, or phone the theatre box office at 362-7996 during Box Office hours…. Mondays 4p-8p, Wednesdays 10a-1p, and Saturdays 9a-12p.