The weather couldn't have been better! I'd worn a jacket, and wish I hadn't…..it was that nice. I feel like a actually took a Staycation. I know many of you took advantage of an event filled weekend, since I ran into dozens of readers and friends along the way.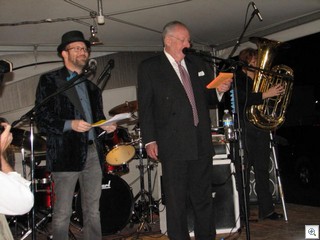 The evening started with hysterically bad Haiku from the Mayor and Dayvid Figler, as part of the Vegas Valley Book Festival's "Sin City Sonneteer Spectacle"
I picked up a great little skinny red and black tie – at Fifi's "Tie One On" display at Retro Vegas on Main Street. Fifi tells me that it was so popular, that she's leaving it there all month, and may even expand it and leave it there forever. Not sure why I didn't take any pictures of the rack of fabulous ties, scarves and gloves from the 20's to the 70's.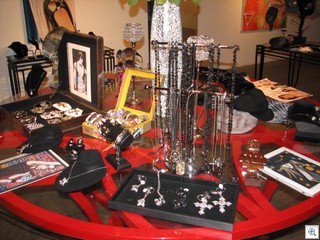 We discovered a great little shop next door to Retro Vegas called Glam Gallery. It features all kinds of blingy accessories.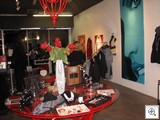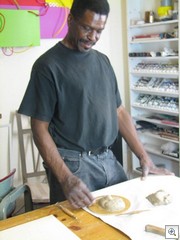 The Southern Nevada Center For The Arts (which has moved from Neonopolis to 3rd Street at California) is quickly getting their act together. There's about 20 artist represented now. I was fascinated watching Ruel James. He's a remarkably talented clay sculpturer. He's permanantly set up there now.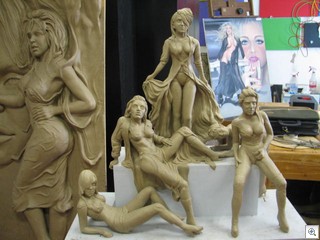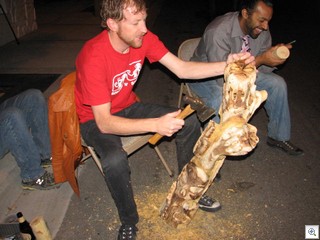 Tiki carving at the outdoor festival.
No fences, no baracades, no problems. Just people strolling thru the streets!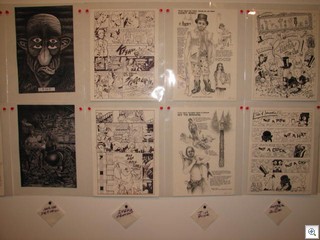 DRUNK! at Atomic Todd on Mainstreet. Drunk is a collaborative effort hard-cover comic book that's just been published by mostly local artists. I picked up my copy and met some of the author/artists at the Comic Book Festival on Saturday.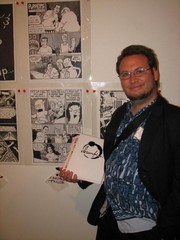 You can get a copy at Atomic Todd's Gallery on Main Street. There's snipets of the book on the walls. A comic book about drunks is both sad and hysterical. Our friend and View writer Andy Taylor is on of the collaborators.
Kristen Peterson reviewed it in the Las Vegas Sun this last July.
And, naturally, they have a website for it called Vegas Drunk.
And a Youtube video. You'll want to turn your volume down a bit, as the music is most fitting for a late night drinking binge at the Beauty Bar!
Oh what the heck, I'll keep you on the page and embed it for you.
There's more to come in Part 2 as we visit the newly re-invigorated Holsum Lofts, The Vegas Valley Book Festival, and a Saturday Night jaunt on Fremont Street!