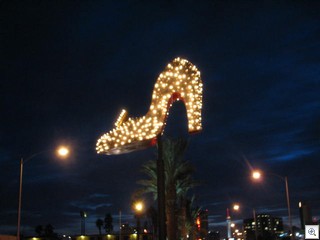 Last night was the dedication and inaugaral lighting of the first 3 newly restored neon signs in the "Cultural Corridor" of Las Vegas Boulevard.
Congress created the National Scenic Byway Program in 1997. The Nevada State Legislature designated Las Vegas Boulevard from Washington Avenue to Sahara Avenue as the State of Nevada's 17th Scenic Byway in 2001,
In 2004, The Las Vegas City Council adopted the a plan for the Scenic Byway that called for the restoration and installation of 20 historic neon signs.
Acording the the progam, all new signs in this designated stretch of Las Vegas Boulevard will have to have at least 75 percent neon and or animation.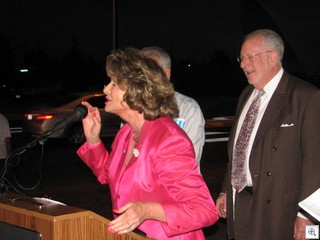 The special guest of honor last night was Congresswoman Shelley Berkley, who helped secure $300,000 in federal funding for the restoration of the signs, and for the completion of the "La Concha" visitors center at the Neon Museum.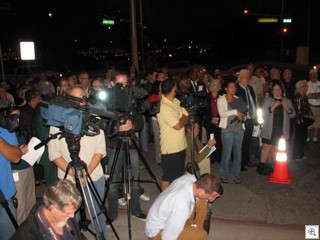 About 100 guests were in attendance for the lighting ceremony.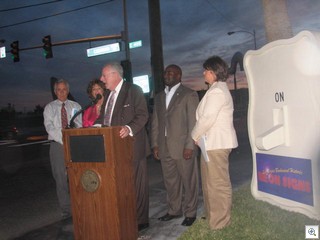 At 5:45, just as it turned dark, the ceremonial switch was thrown, and the three signs lit up the night sky for the first time.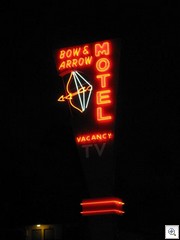 The Silver Slipper sign is in the median across from the La Concha Shell. The Bow and Arrow sign is just slightly to the south, and the Binions Horseshoe sign is down the hill at the intersection of LVBN and Washington Ave.
Take a drive north on Las Vegas Boulevard. Either night or day – the signs are stunning.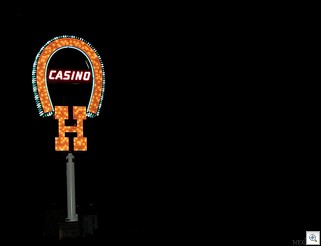 (UPDATE)
When I first published this post, I didn't have a picture of the Horseshoe sign. None the picture I took came out decently. I must have pushed some extraneous button or another on the camera.
Reader Clay H. (who's going to be the next new resident of Paradise Palms) sent me one today that he took, so a big tip of the fedora to Clay.
And here's the Las Vegas Sun coverage on the lighting ceremony which includes some 1950's and 60's pictures of the Silver Sliper Sign in it's original location.