UPDATE: MORE PICTURES OF THE SIGN BEING INSTALLED HAVE BEEN ADDED BELOW.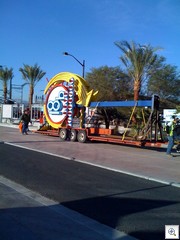 The Regional Transportation Commission is installing the new neon sign at the ACE Transit Stop at Casino Center and Coolidge Street (just north of Charleston) today. The sign will announce the 18B Arts District in Downtown Las Vegas.
Brian Paco Alvarez sent over these pictures of the truck arriving early this morning.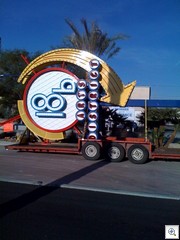 The sign arrived on location this morning, and is being installed today. No announcement has been made of any lighting ceremony or dedication event.
I'll gather more pictures later today as it gets lifted into place.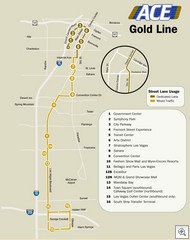 The ACE Transit system has been under construction all year, and will loop thru the "New Downtown" in the old railroad yards, and will provide easy transportation for the Smith Center, the World Market Center, County Government Center, Fremont Street Experience and into the Arts District.
Eventually it will also connect with the Las Vegas Strip and the Las Vega Convention Center.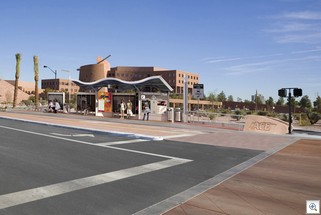 The various stations have been designed by local artists in the style of the classic Mid Century Modern buildings that adorn Downtown Las Vegas.
The new neon sign for the 18B Arts District will tower over the intersection of Casino Center and Charleston.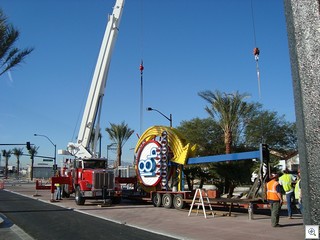 Yorgo Kagafas, the Urban Design Coordinator from the City Of Las Vegas Planning and Development Department sent me these picture of the sign being installed.