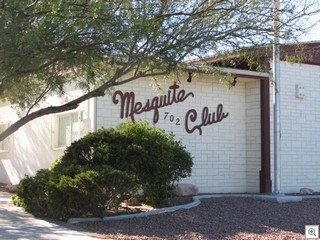 "Established in 1911, the Mesquite Club is the oldest non-profit women's club in Nevada. The club's formal debut took place just six years after the emergence of early Las Vegas on building lots put up for auction by the railroad in 1905.
The Mesquite Club took it's name from the indigenous mesquite trees which, at that time, provided most of the shade for the Southern Nevada desert.Once established, the club immediately set to work addressing the civic, cultural and general welfare needs of the community." (from the Mesquite Club website).
Their clubhouse, at 702 St. Louis Avenue achieved historic property designation from the City of Las Vegas in 2009. Additionally, they've just finished the first remodel and updating in many years. In this post from January, 2009, I showed a few interior photos from before the remodel. I was excited to see that the decorative concrete block wall in the entryway was preserved. If you've never seen the inside, make sure you stick your head in the door when you're there.
Mesquite Club Rummage and Parking Lot Sale In Downtown Las Vegas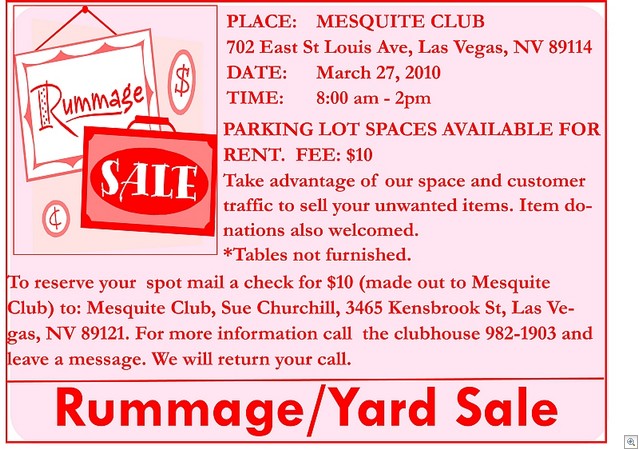 It's time once again for their annual Rummage Sale on Saturday, March 27th from 8am till 2pm. Should be a great place to do some spring time bargain hunting. Maybe you'll even find some real treasure, after all – many of their members are from some of the oldest families in Las Vegas.
You can rent a parking space yourself if you'd like to sell some of your stuff, or donate items for them to sell. Details are in the flyer.