Some More Catching Up – Mid Century Modern Landscaping And Beautiful Things In Las Vegas
Mid Century Modern Landscaping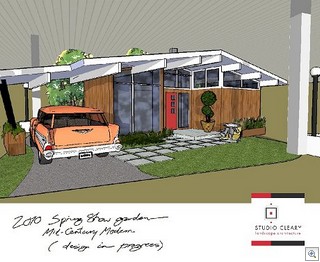 Our favorite Mid Mod Blogger — Pam at RetroRenovation.com has started a series on Mid Century Modern Landscaping. I totally pleased that she's going to do this topic. It's one I've always wanted to do, but the emphasis in Las Vegas has been on xeroscape/desert/low water landscaping. Hopefully we can learn some fundamentals of the era, and blend it with the requirements of desert landscaping.
In her interview with Ted Clearly, a Landscape Architect, she asks about those fundamentals…..
For this first story, can you tell us, in general, what are the key, foundational elements or drivers of mid-century landscape design. Like… the theory behind it… that residential homeowners should be thinking of?
Well, I think we can look at it in a couple of ways; traditional homes had one 'look', but mid-century modern ones quite another. With the latter, a seamless quality between inside and outside was an integral aspect of mid-century modern architecture, and there's a very recognizable vocabulary of rectilinear patios, clean lines, and bold curving shapes with no focal point or symmetry. Influential landscape architects such as Garrett Eckbo were strongly influenced by the abstract painters of the mid-century.

But as Pam has pointed out, most of these modest post-war homes instead reflected a traditional style, whether we're talking about a Cape Cod, a neo-Colonial, or a rambler. If you carefully study garden books of the '40s and '50s, when you scrutinize the black and white or fading color photos, you'll see that the better landscaping really was not a lot different than what we garden designers today think of as basic, sound design principles: overlapping plant masses, interesting specimens, a sense of 'movement and rest', and entertaining areas using hardscaping materials and geometries in sympathy with their house's style. We could speculate that our parents and grandparents, having weathered a deep, sobering Depression and the full-on sacrifices of a second World War, were looking for the comfort of traditional styles in both their homes and the landscaping that surrounded it, but in a simpler and more affordable version geared toward the middle class. There seemed to be a bit more emphasis on bright circus-like colors with big Dahlias, Hollyhocks and high-maintenance Hybrid Tea Roses, yet designs tended to be a bit more 'tight'. Today's trend, by comparison, introduces somewhat relaxed, native perennials and shrubs, which have become more mainstream not just for the aesthetics but the environmental aspects of water conservation and so on, which of course was virtually a non-existent concern back then. One easily-overlooked aspect of mid-century garden design is what's not included: the sorts of materials like stackable concrete block walls or vinyl fencing that weren't around back then, and an absence of the over-the-top luxury added to so many expensive backyards in recent pre-Recession times. It's interesting to me how the influences of Modern design crept into the look of many otherwise-traditional gardens, no doubt because of popular magazines like Sunset, in a similar way to the merchant builders who cobbled together different features they admired into their hybrid home styles.
As Pam is famous for saying….."Heck Yea there is more" and still more to come.
SEVEN Magazine's 50 Beautiful Things In Las Vegas
Vintage, Retro and Downtown things that get a nod include:
Luv-It Custard, The Neon Boneyard, Cleveland Clinic/Lou Ruvo/Frank Geary, The 5th Street School, The Holiday Motel Sign, The Jersey Boys, The Golden Gate Hotel, World Market Center,