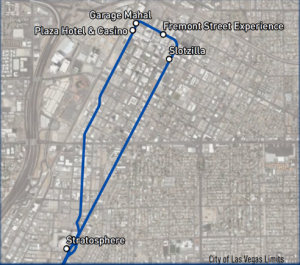 The Boring Company's application to expand the Vegas Loop into downtown Las Vegas has been approved by the Las Vegas City Council. The project is being privately funded and there will be no fee reductions. View the entire presentation. Construction is tentatively scheduled to begin in early 2023.
No taxpayer funds requested or contributed: all funding is from The Boring Company and private properties
What is the Vegas Loop?
It's an express transportation service underground via Tesla vehicles, which are battery-powered and have zero emissions.
Benefits to downtown Las Vegas
Every vehicle that Vegas Loop removes from city surface streets "frees up" traffic capacity that can be used to continue supporting downtown (re)development.  This will help the city and other developers avoid costly roadway widening
Connectivity to/from key destinations throughout the resort corridor is greatly enhanced
An additional form of transportation to/from downtown is created with no public funding